We've reached that time of year when everyone is just plain sick of winter. For those of us in the DC area we will get just enough of a taste of warm weather that we're chomping at the bit for spring's arrival. However, as sure as the forsythia begins to bloom, the new season also heralds yet another not so pleasant event – spring cleaning (cue dramatic music).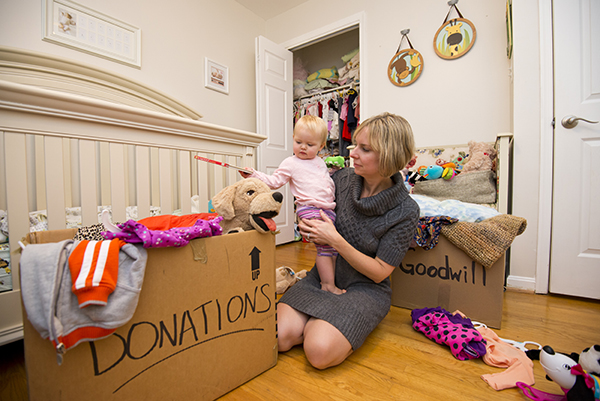 Of course with the arrival of the season the Internet will be full of articles and blogs offering advice on the best tips for spring cleaning. We at Goodwill of Greater Washington would like to present a different approach. No, we do not suggest you avoid the topic or opportunity. After all, we do love all those springtime donations. Rather, we are going to offer some tips on what NOT to do when spring cleaning.
Being Sentimental
Yes, that lovely souvenir throw pillow you got from your trip to Dollywood in 1994 brings back so many memories…just none that come to mind right now. You don't use it and – face it – you probably won't be putting it on display any time soon. Keep those true family heirlooms or items that conjure a sharp, pleasant memory. Your daughter's fifth grade winter coat is probably not one of those items.
Being Ruthless
On the flip side, avoid tossing things for the sake of tossing. While you do need a plan (more on that to come), that doesn't mean you need to toss everything in your closet, garage, attic, basement, etc. Can you reduce your footprint by 10-20%? Probably. Then again that old lamp might just need a new shade and it could end up looking very nice in the den. Think before you toss. Or, consider dividing everything into three piles: "donate to Goodwill", "re-pack or re-use", and "not sure". Then, reassess later.
Setting Unrealistic Goals
You've put this entire process off for a whole year. Do you really think you're going to get it all done in one Saturday? Don't set yourself up for disappointment. Assess your overall areas of need and then divide and conquer. As the old joke goes: How do you eat an elephant? One bite at a time.
Losing Focus
It's a beautiful spring day, the windows are open, and a gentle breeze wafts through the house. You're just about to open that box marked "miscellaneous stuff" when a butterfly flits by and you begin to wonder where it's going. Maybe you should go see… Don't do it! Once you commit to the process – see it through, at least long enough to complete a goal.
Winging It
Spontaneity can be fun… just not when it comes to spring cleaning. Go into the situation with a game plan. Are you looking to declutter? Re-organize? Clean out stuff? Whatever your priorities are, have a plan on how to tackle them. Then remember to be realistic and stay focused.
Going Solo
Spring cleaning is a team sport. Period. You can be the coach, organizer, and delegator but you do not need to be the sole participant. The kids can give you a couple of hours this weekend (just tell them to Snapchat the cool stuff they find!) Unless you live alone. Then consider offering a friend a little appropriate incentive to help the process along (a free meal, a cold six pack, whatever suits their fancy).
Of course you could avoid the madness of the all-at-once spring cleaning frenzy by doing a little bit every week or month. But, who has time for that?
Visit your local donation center
---