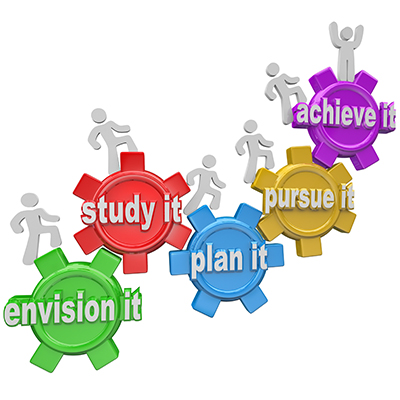 As 2015 comes to a close, we at Goodwill, like most organizations, will begin evaluating how effective we were in reaching our mission goals for 2015.
By year's end, Goodwill will have served more than 2,000 people in the Washington, DC region.  We will exceed our goal for the number of people who successfully graduated from our job training programs, but we may fall a little short on our life coaching goal.
While generally speaking our numbers are very encouraging, the goals we measure as an organization look very different from the goals established by our program participants. These individuals came to Goodwill because they were desperate for a better life for themselves and their families.  They needed the skills to secure sustainable employment and achieve self-sufficiency.  When they arrived at our front door many of the people we serve couldn't even articulate their goals because they didn't want to waste time talking about something that they simply didn't believe was possible.
But that was then…and this is now.
For people like Nadine, Peter and Amos – along with 112 others who found new careers so far this year through Goodwill – the "job" is just the beginning…
Nadine
came to Goodwill in 2009 after spending most of her life homeless, in and out of jail. She once said she never owned a set of keys because she never had a door to open. A sad statement that spoke volumes about her life. Nadine graduated from Goodwill's environmental services training program and was immediately hired at Bolling Air Force Base.
One of Nadine's goals was to own a home – one she could share with people she loved, allowing others to have a roof over their heads – something she never took for granted. Before coming to Goodwill, that goal seemed impossible to Nadine. She lived life one day at a time, trying only to survive.
However, earlier this year, Nadine fulfilled her impossible dream. She achieved her goal of owning her own home, which she bought with her own money, having earned every dollar through hard work and commitment. Nadine says her new set of keys represent her life, her joy, her hope and her gratitude – other goals she once thought were unattainable.
Read Nadine's Full Story
Then there is
Peter
who once trained in martial arts for 14 years and worked for a while as a driver for Uber before realizing his life lacked direction. He wanted a career with structure and discipline that provided a future in criminal justice.  He enrolled in Goodwill's Unarmed Security and Protective Services training program and passed with flying colors as the Team Captain and the Top Cadet in his November '2015 class! 
After receiving numerous job offers, Peter now works as a security officer for Master Security, doing something he loves! Now that he's achieved his first goal, Peter is looking forward to reaching his second:  Translating his security experience into a career as a police officer. We're quite certain that Peter won't have any problem fulfilling that dream, too.
Read Peter's Full Story
Finally, there is
Amos
. Before coming to Goodwill, Amos was starting to give up hope. He was homeless, struggling with depression, and had been unemployed for three years. Amos was also deeply in debt and estranged from his adult daughters.
Those days seem a distant memory to Amos now, as he prepares to celebrate six-months of employment with Marriott. Amos graduated from Goodwill's Hospitality Training program and was immediately hired by the hotel chain earlier this year. He has a budget and a bank account. He's reconnected with his daughters and recently met his grandchildren for the first time!
Amos' life today once seemed impossible to him.  He still has to pinch himself sometimes because he is so happy with all that he has accomplished with Goodwill's help and his own commitment to personal growth. Now Amos has a second goal. Because he has some training in accounting, Amos would like to go back to school and earn his degree. He also hopes to buy a house. Thanks to our generous community we believe those goals are no longer out of reach for Amos, and neither does he.
Read Amos' Full Story
These are but three stories out of the thousands of lives that have been touched by Goodwill.  As you reflect on your personal goals think about Nadine, Peter and Amos. If they can overcome the personal challenges they faced and still found success, so can you!
More Goodwill Success Stories
Happy Holidays from all of us at Goodwill of Greater Washington!
---
We Are Recruiting For Our 2016 Job Training Programs. Inquire Today!
Goodwill Job Training Programs
---