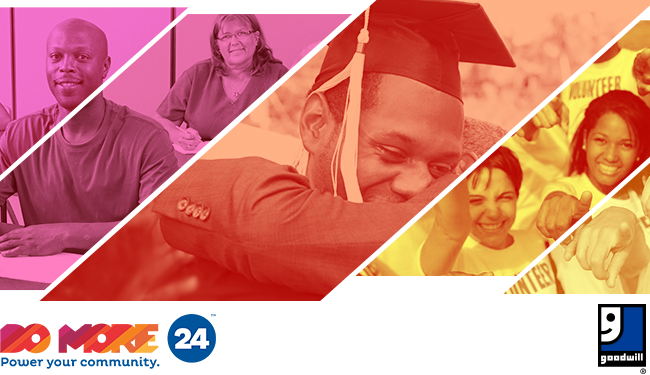 As we celebrate Goodwill Industries Week May 6 to 12, we also celebrate the community that makes our work at Goodwill of Greater Washington possible.
Make a Gift to Transform More Lives
More than 2,000 people come to our Goodwill each year seeking training, resources, and support on their path to employment and greater independence. We expect to serve 259 people in 2018 through our job training programs in Hospitality, Security and Protective Services, Energy and Construction, and our new Healthcare training program.
Goodwill invests an average of $5,500 in each student who completes our training programs. But we can offer those programs at no cost thanks to those who make financial gifts to support our mission, shop at our retail stores and Round Up their purchases.
So the theme of this year's Goodwill Industries Week campaign – Celebrating Our Communities – represents the good that happens when you combine the courage of the individuals Goodwill serves with the partners who believe in creating opportunity for individuals with disabilities and disadvantages.
We hope you'll join that community by making a gift to our Do More 24 online campaign that also kicks off this week. The annual Do More 24 sponsored by the United Way of the National Capital Area unites our community to support nonprofits like Goodwill creating lasting change.
You can partner with Goodwill to do more for our community by scheduling your Do More 24 gift today through advance giving or save the date for Thursday, May 17 at noon for the 24-hour giving day.
Together we can build a stronger community by giving everyone access to training that helps them build a better life. Make a Gift to Transform More Lives
---