In 2014, Goodwill of Greater Washington saw an increase of 8% in donated goods. Whether you made your donation of household goods, clothing or electronics at one of our donation centers or bins, organized a donation drive at your school or work or arranged for a home pick-up – you contributed financially to our mission of transforming lives and communities through the power of education and employment.
This looks pretty good on paper but exactly how do your material donations advance our mission? To answer that we take you through a day in the life of a donation.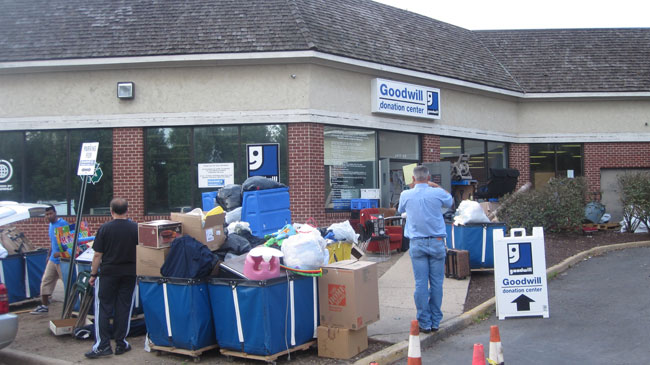 When you unload your car at one of our fourteen donation centers you'll likely see a flurry of activity and countless bins that may seem like chaos, but these bins represent different categories of donated items. When they are full they are moved to the processing center inside one of our production and sorting facilities.
Almost every Goodwill Donation Center is equipped to handle all donated materials almost immediately. Once the material goes inside it is evaluated on two basic criteria:
QUALITY – Is the item in good enough condition to be placed on the store floor? Goodwill prides itself in the quality of goods we sell and only those items that meet our rigid standards make the grade.
PRICE – Can the item be priced effectively to sell as quickly as possible while still generating enough revenue to support our mission and operations? It is in Goodwill's best interest to price these items to sell quickly. Each sale funds our mission and you get a deal. It's a win-win.
From this point, the items transition from our processing center to the store floor. The items donated at a specific location usually end up on that store's shelves. Of our fifteen retail stores, thirteen are equipped to handle donations this way. The exceptions are our Arlington Boulevard store in Falls Church and our Columbia Pike store in Arlington which receive their merchandise from our Glebe Road donation center, which happens to be one of the top 10 busiest donation centers in the entire country. We also have one stand -alone fully staffed donation center at Fairfax Fire station #22 in Springfield, VA.
Once these items reach the store they generally move out the door within four weeks. If they don't, they move to step two of the process – the after-market.
Goodwill of Greater Washington literally processes tons and tons of donated goods every year. Obviously, not all of it ends up in our retail stores. Where do those donations go?
Generally, we sell the non-sellable goods on what is referred to as the textile after-market. Most of what we cannot use is clothing and often ends up in either emerging markets around the world or as recycled fabric. Non-textile items go through the same process. For example, old electronics are recycled for their raw materials. Old books become packing material or even insulation.
Regardless of where your donated items end up, they generate revenue for Goodwill. Either through retail sales or after-market recycling – nothing goes to waste.  And remember, 91 cents out of every dollar Goodwill of Greater Washington makes off of your donations goes towards mission services. In 2014 we served about 3,000 people in the DC area!
So, as the New Year unfolds and you replace the old with the new – remember to donate last year's things to Goodwill. It does make a difference.
---