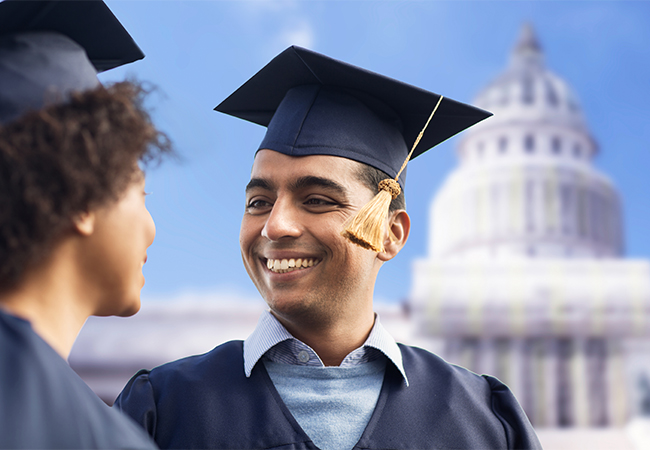 Tell me if this scenario sounds familiar: You're working the room at a business or networking event in the D.C. area. You strike up a conversation with three or four people and after you've spent about fifteen minutes going over the basics of who everyone is and what they do, you all decide to exchange business cards. You look down at the cards and notice at least one of those individuals has an acronym after their name signifying they have attained an advanced degree.
It is no secret Washington D.C. has one of the strongest and most competitive job markets in the United States. This is probably why it is also one of the most highly educated regions in the country. According to statistics released by Forbes in 2016, 48% of the population has a college level education while 22.9% have some sort of postgraduate degree. The national media platform, Governing, checked this postgraduate percentage against the other metropolitan areas in the United States with populations of 500,000 or more. Their findings? D.C. has the largest concentration of residents per capita holding a graduate degree or higher.
But is it truly worth it to have a postgraduate degree in the Washington D.C. area? Does one really receive a strong enough ROI to justify the tremendous investment of time and potential six figure debt? The answer to this question is… it depends. Yes, a higher level of education more often than not increases job opportunities and earning potential. Not to mention there is a certain amount of prestige that comes with masters or doctorate. But this is far from a clear-cut, black and white situation.
To determine the value of a postgraduate degree in the D.C. area you have to look at it like you would in any other part of the country. What it really boils down to is an assessment of the job market vs. the level of education needed to advance within said job market.
For example, in 2015 Washingtonian published an article highlighting the four industries projected to produce the most jobs in the D.C. area over the next three decades. Two of those industries, construction and leisure/hospitality, usually only require a high school diploma and some industry training to qualify for an entry level position. This is one of the reasons organizations like Goodwill of Greater Washington offer job training programs in sectors like hospitality. Once an entry level position is achieved, advancement can be obtained through tenure and experience. The general manager of one of DC's largest hotels, where Goodwill has successfully placed hundreds of employees, began his career in a hotel kitchen.
But the other two industries, professional and business services and health/education, more often than not require some sort of postgraduate degree to advance and in many cases to even get a foot in the door.
Another industry that is entering a boom in the area is technology. Software development, computer systems engineers, networking and computer systems administrators, information security analysts, and computer systems analysts were in WTOP's list of top 10 jobs in highest demand in the D.C. region. But even within this sector the need for a postgraduate degree varies. One is useful to have if you wish to go into the management side of this industry. But in order to do the ground level work, like coding for example, there are many reputable outlets where the necessary skills can be learned and certifications earned to get a foot in the door.
The decision to go to grad school is a big one and not to be taken lightly. If you are trying to figure out if it is worth doing in order to have a successful career in the D.C. area I suggest you start by asking yourself this question posed by Money on this very topic: "Is a graduate degree valued in your desired field?"
The answer could very well determine a substantial portion of your future.
---