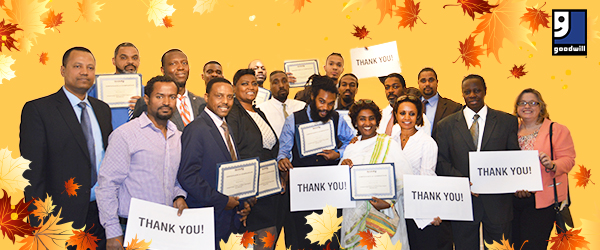 Thank you to the hundreds of thousands of people who have donated to Goodwill all those items that have outgrown their homes this year.
Thank you to all of our retail store customers who understand that value is not dictated by a high price tag, but by the quality of the goods you purchase.
Thank you to the dozens of businesses and foundations that have provided us with the financial resources needed to support our job training programs and supportive services for both the community and our associates.
Thank you to those individuals and families who have chosen to generously give of themselves and their savings to make a positive and lasting impact on those we serve.
Thank you to each and every Goodwill volunteer who offers us valuable moments of their lives so that others can finally see life as a bridge of hope, rather than a tunnel of despair.
Thank you to each of our retail associates who work on their feet for hours every day in order to ensure that our customers have a pleasant shopping experience while also serving as mission ambassadors.
Thank you to our donation attendants and production line associates who have very, very hard jobs and work in heat, cold, snow and rain to ensure that the donations made to us are treated with TLC and that our donors are properly acknowledged for their generosity.
Thank you to all of our custodians, grounds maintenance and pest control employees who spend their days cleaning up after others and making workplaces safe and beautiful. They show pride in their jobs while never taking a day of work for granted.
Thank you for the Goodwill leadership team that develops strategies, leads by example and works long hours to ensure that we are fulfilling our mission, running efficient business operations, acting as good stewards of our donations and making a measurable impact on our community.
Thank you to all of those people who have the courage to seek assistance from Goodwill. Asking for help is difficult for anyone with an ounce of pride. Putting your family and your future first should be celebrated.
Finally, thank you to YOU, for taking the time to read this blog post, share it with your friends and family and advocate for the important work of Goodwill.
From each of us at Goodwill of Greater Washington…Happy Thanksgiving!

Please remember us!
---