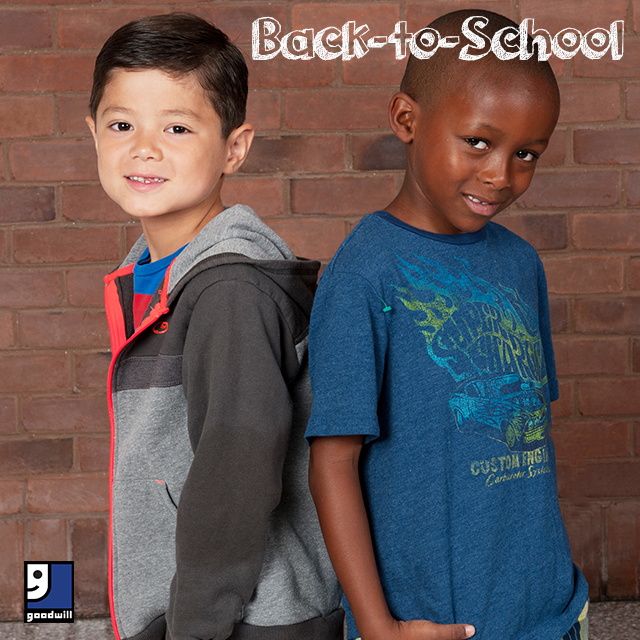 It is the time of year when children shudder and parents rejoice. As the dog days of summer slowly wind down it is time for the back-to-school season to quickly ramp up. At the core of this annual pilgrimage is the re-stocking shopping spree every family goes through. New backpacks, new outfits, new supplies – they all make the "list". And, that list can often turn into a budget breaker.
According to the National Retail Federation last year, the average household with children in grades K-12 spent $669.28 on back-to-school items. May we suggest an alternative to your usual back-to-school shopping routine. Your local Goodwill of Greater Washington retail store is stock full of much of what you need at prices that are far, far below retail.
The DC Goodwill Fashionista recommends three tips to help stretch your dollar while shopping:  wait till after the first week of school, shop for versatility, and stock up on the basics.
You will be amazed by the selection our stores have – especially in clothing. For the price of one outfit at a traditional retail store you could walk away with several from a Goodwill store. Paying full price is nice but when children run through clothes like water it might be better to economize. Plus, you can offer them greater variety.
It doesn't stop there. We also carry items like backpacks, computer cases, office supplies (think printers and calculators), sporting goods and even select electronics. All priced severely below retail prices and all ready to use right away.
Goodwill is also an excellent resource for back-to-college shopping. Whether it's a dorm room or new student apartment you can find an amazing selection of furniture and housewares. You can even equip your kitchen at Goodwill. We carry everything from plates, mugs, pots, pans and utensils to appliances like blenders, coffee makers and even microwave ovens. You will be truly amazed of how well you can set up your college student at Goodwill. And, you'll be pleasantly surprised by the prices.
Let's not forget the teachers! Back-t0-school shopping is not just for students. In fact, here's a great blog post about how a local teacher shops at Goodwill – she has some really good tips!
We don't want this blog to turn into your run of the mill sales piece. However, we did want to highlight this seasonal opportunity for two reasons. First, it will help you save a lot of money.
Second, your purchases fund our essential mission programs. Our retail operations are the engine that drives our job training and job placement programs. The money you spend in our retail outlets goes to that bottom line – helping people find greater opportunities and making our communities more productive. In essence, when you shop Goodwill you are not just paying for stuff – you're paying it forward.
If you haven't shopped at a Goodwill of Greater Washington retail store lately, you're in for a bit of a surprise. Most of our stores have been newly remodeled and our selections of donated goods has never been wider.
Find your local Goodwill store.
This year help your community while doing your bank account a favor.
Oh, and while you're shopping you may want to sing along with the Jackson 5: "…ABC, it's easy as 1-2-3…"
---