Collaboration with Other Social Service Agencies is Critical to Building Self-Sufficiency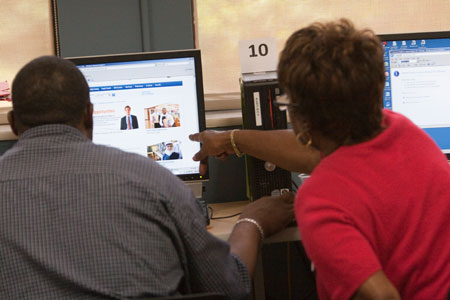 While Goodwill of Greater Washington's mission is centered on workforce development we often need to reach outside of our core competencies to help our program participants address or remove barriers to employment. Changing careers or finding a job can be stressful on their own.  Adding another level of challenges can just complicate the issue.
The barriers to employment often go well beyond a lack of marketable job skills.  Goodwill works with other social service agencies to help eliminate or at least mitigate obstacles such as affordable housing, homelessness, transportation, clothing, childcare, healthcare, personal nutrition, or language barriers.
For example, as of September 30th, 28 of our participants self-identified as being homeless.  We have developed a system that not only determines the level of need for these participants but provides steps for alleviating the situation.
First, we gather information on the participant's specific circumstance. Are they living with relatives? In a shelter?  If they are homeless we will not only provide them with a list of shelters in their area, we will often reach out to individual shelters on their behalf.  Through many conversations about the benefits of an Oxford House, along with researching vacancies and providing copies of the application, an associate was recently placed into an Oxford House with the help of Goodwill.
If the participant is currently in a shelter or living with friends or relatives we will research rental opportunities, discuss and review a housing budget with the participant and based on their permission, reach out to their Case Manager at the shelter and work with them to identify housing opportunities.
In addition, the Goodwill Career Coach will reach out to local social service organizations to inquire about housing programs. Often we will set up phone calls between the participant and the Social Service office, apartment complex, etc.  and "coach" them through the call. We even walk participants through the on-line application process.
We also provide information and resources to our participants who are facing the frightening prospect of eviction. On several occasions, we have been able to prevent evictions.  As a result of being referred to a local community organization by Goodwill, an associate was recently able to obtain over $600 in emergency rental assistance, which resulted in eviction prevention.
Finally, we have assisted many participants find household furnishing once they are settled into permanent housing.
The transformative process of changing a life's direction is difficult. It takes courage, dedication and focus. However, it is also just one part of any person's life. The course can be easily derailed by external pressures.
We recognize this and take the time to get to know our participants, find out what other realities in their lives are impeding the employment process and take steps to help them smooth the path to a new beginning.
This is all part of our continuing mission to transform lives and communities…
Click here to read more about unemployment at Goodwill.
---