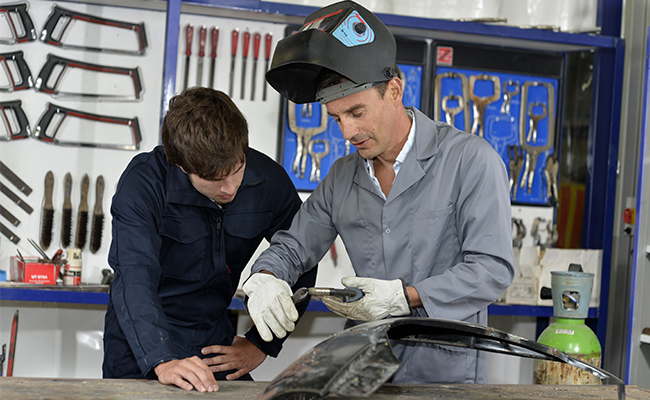 I was recently having a conversation with a friend of my daughter's. Yes, he's a Millennial. He is also an engineer who seems to have a very solid job. However, during the course of the conversation he mentioned if he had to do it all over again he would have gone to trade school and become a welder. Why? Because that is a skill he could count on for employment on a consistent basis.
This got me thinking. We spend so much time talking about how important it is to go to college. To get that 4-year degree. Yet, we rarely consider the opportunities that are available in the so called "trades". Is there a stigma attached to being, say, a plumber or electrician rather than an English teacher or marketing specialist?
While I could not find any attitudinal studies regarding the perception of trade/vocational schools versus college, we can likely agree the latter is somehow more acceptable. Think of this – if you are at a networking event and someone tells you they are in HVAC, would you assume they are an executive or a tradesman? Would your view of them change if they told you they were the marketing specialist, not the person who runs conduit?
Let's look at some facts.
First, a college graduate – and many who start this path do not finish – will not enter the workforce until they are about 21. A trade school grad could get a head start of a couple of years. That increases the potential life time earnings total.
Then, let's factor in the cost of student loans. The average graduate has $32,300 in loans they must repay. The average cost of a four year degree is $127,000. Compare that to trade school, which averages out at $33,000. That does not factor in interest payments but at the very least the average college graduate has about much debt as the average trade school graduate spends to earn their vocational training.
Now, factor in the average bachelor's degree holder will earn $46,900 while a trade school grad will earn – on average – $35,720. That is a significant difference if you are just looking at averages. This does not take into account things like job availability, the cost of loan repayments, and even job security.
This also does not factor in career growth. It may be assumed the holder of a BA degree has a wider variety of paths open to them and can advance their careers in multiple ways. A tradesman is generally locked into one field for their entire career. However, that field is precisely defined and generally not as subject to the whims of the economy or Wall Street. We are always going to need a plumber at some point, right?
I am not here to advocate one path over the other. These are personal life decisions everyone must make on their own. That said, the path of vocational/trade training is certainly a viable career path to consider. It is honest work. It is necessary work. And, it can provide a lifetime of security.
For comparison sake I looked up the median salaries of some of the examples I used:
Plumber: $50,620
Electrician: $51,880
Welder: $38,150
English Teacher: $47,760
Marketing Specialist: $65,272
Is there a stigma attached to a trade school diploma? Honestly, only you can answer that question. However, we can agree a career in a trade is a viable way to earn a living. Remember, its who we are, not what we do.
---