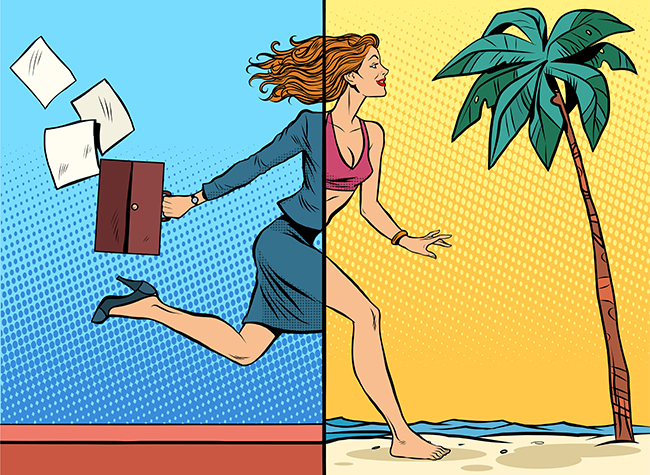 The Little Voice Inside Your Head: "Summertime! Let's go on a vacation!"
You: "There is too much work to do… I have to prepare a big presentation for the national convention in the fall… we're on the brink of losing the Miller account…"
The Little Voice Inside Your Head: "You have three weeks of paid time off to use this year. Come on, let's go to the beach!"
You: "I just can't. There is just way too much going on."
The Little Voice Inside Your Head: "Seriously, you need a vacation. You're really burnt out."
You: "And how would you know I'm burnt out? You're not even real."
The Little Voice Inside Your Head: "Because your audibly talking to something that isn't real and Debbie in the next cube has a concerned look on her face because of it."
You: "Oh… maybe you're on to something."
Hard work is a pillar of our culture. But apparently many of us cross the line of being a dedicated worker into the realm of a workaholic on the edge of burning out. As much as you may think you're being a model employee by working yourself to death, studies have actually shown you're more likely to be a liability to your company (and yourself) if you don't take the time to partake in some recreation and recharge the batteries.
A recent article published by CNBC stated over 50% of Americans left paid time off days unused in 2016. This amounts to 206 million days in total (well over 500,000 years). That is 500,000 years of spending time with family; 500,000 years of traveling; 500,000 years of sleeping in; 500,000 years of simply doing something other than the daily grind.
The truth of the matter is, if you're overworking yourself, you're most likely causing damage to your mind and body that is probably effecting your ability to produce in the workplace. According to Psychology Today, chronic stress decreases your body's ability to resist infection and maintain vital function. You won't sleep as well, your digestive system will struggle, you can cause damage to your arteries, and you can even negatively effect your genetic material.
Your mind can also go into burnout mode which can cause a myriad of problems. Exhaustion sets in, your motivation tanks, your memory stops working at full capacity, you become more irritable, you start talking to the voices in your head in front of Debbie (maybe), the list goes on and on. Also, your critical thinking and problem solving skills can be dulled which will most assuredly effect your ability to perform your job.
But the damage done to the company you work for extends beyond the fact your output in the workplace will decrease. Adam Sacks, president of the Tourism Economics division of Oxford Economics, said in a statement to Forbes, "Leaving earned days on the table harms, not helps, employers by creating a less productive and less loyal employee. Further, it is a misconception that employers are ahead of the game when workers don't use the time they've earned. In fact, stockpiled time off creates considerable financial liability for companies and governments when employees 'cash out' upon departure."
Also, if you think you're making yourself a more valuable employee by not taking time off you may actually be putting your employment at risk. If you work yourself to the point of burning out you increase the chances of making mistakes which could prove detrimental to your job security.
Taking the allotted amount of time off would also have a positive trickle down effect on the economy. A 2014 Forbes article states there would be an added benefit of more than $160 billion in total business sales and $21 billion in tax revenues. This kind of spending could support over 1 million jobs. Also, if just one additional day off per year was taken by those leaving them on the table, the result could be $73 billion in output for the U.S. economy.
I know it's hard to take a vacation sometimes. You may work for a boss whose nameplate should say Beelzebub and doesn't believe in time off. Or you could be a very dedicated worker who simply has a lot on your plate and you want to do everything you can to do your part for the company. But those paid time off days are there for a reason and you're doing a lot more damage in many different ways if you don't take them.
Everyday that little voice inside your head is only going to get louder and Debbie is getting very close to placing a call to human resources. It's time for a break.
---