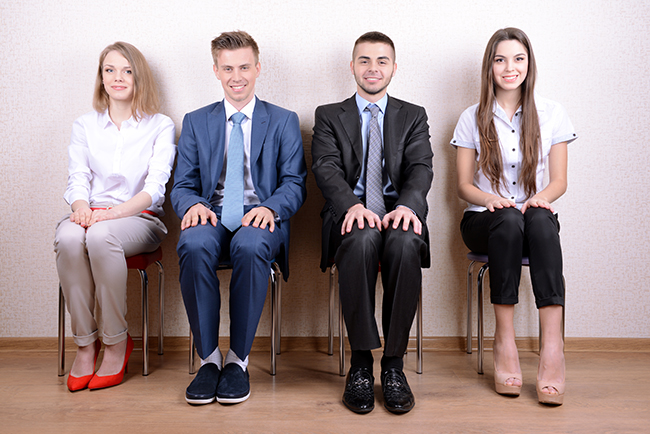 It is said that in life there are no second chances when it comes to first impressions. While this proverb rings true in countless  situations there are few places where it is more prevalent than in a job interview.  The moment that an interviewee walks through the door the interviewer immediately begins the critique.  Many first impressions are formed within the first thirty seconds and the cardinal aspect on which the potential job candidate will be judged is physical appearance.
It is apparent that in recent years there are certain workplaces that have become more casual when it comes to everyday office attire.  Some of the most prominent tech companies like Apple and Google are known for allowing their employees to wear t-shirts, jeans, and sneakers.  A close friend of mine once complained to me about the fact that he had to go out and buy a suit and tie because he was interviewing for a new position.  By the way, he was interviewing for a job in nuclear engineering.  He made it pretty clear that this is not the attire that someone in his position would have to wear on a day to day basis.  "It [frustrates] me that I have to put on this facade by dressing up for this kind of thing," he told me.
While my friend's story is anecdotal it demonstrates an important point.  In any job interview, even when the everyday garb worn around the workplace may be casual, it is important to show up looking your very best.
"Appearance affects hiring decisions and plays a major role", says Brenda Ferguson Hodges, a California-based image consultant and career coach, in a recent Forbes interview. "Hiring managers need to be able to visualize you in that position they are trying to fill."
Looking your very best can mean different things to different people and while a job candidate should always try to look sharp it is also possible to overdo it.  A business suit is typically appropriate, though a tuxedo may be a bit too much!  "I think a person should look office-appropriate," says Ariel Foxman, InStyle's editor in chief in an interview with Fashionista.  "I really, really want to remember what somebody is saying and not what they're wearing."  The interviewer will also be looking at what you're wearing for cues that will help them determine whether or not you will fit in with the company culture.  That's why it may be smart to simply ask the person who is setting up the meeting what attire would be considered appropriate.  This takes a great deal of the guesswork off of the interviewee's shoulders and can help set them up to make the right first impression.
Whether the interview requires a formal business suit or a more casual approach, there are some general rules of thumb that should always be considered.  They include:
Properly fitting clothing is important (nothing baggy or too tight, nothing too revealing for women, etc.)
Avoid distracting accessories (bright colors and patterns, large and jangling jewelry, clothing with logos and writing, etc.)
Always wear comfortable and appropriate footwear
Clothing should be clean and wrinkle free
The less perfume or cologne, the better
Proper grooming is a must (neat hair, clean nails, beards are acceptable in some situations but should be neatly trimmed or otherwise clean shaven)
"When in doubt, overdress for the first interview," headhunter Michael Mayher suggests.  At the end of the day a good old suit and tie for men and a nice dress for women will work more often than not.  The chances of overdoing it when it comes to looking sharp in a job interview are exponentially less than underdoing it and looking inappropriate.  Always make sure that the first thing that the interviewer sees makes them believe that you are the right person for the job before you even say "Hello".
---