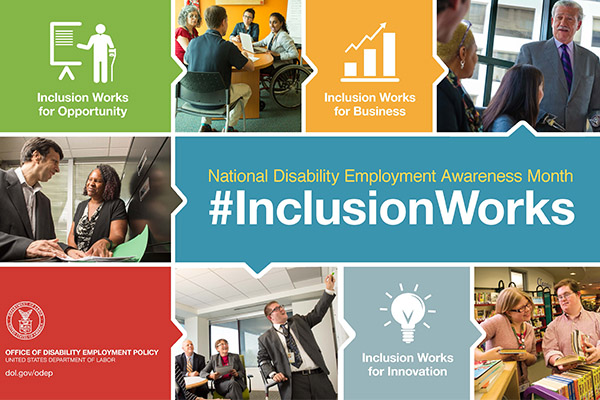 Every year, during the month of October, Goodwill of Greater Washington along with other organizations from around the country join the U. S. Department of Labor's Office of Disability Employment Policy (ODEP) to celebrate National Disability Employment Awareness Month (NDEAM).  This campaign is aimed at recognizing the skills and talents of workers with disabilities and the tremendous contributions they bring to the workforce.
Each year a new theme is chosen to help participating organizations plan their events and observances with this year's theme being "#InclusionWorks".  The purpose of a hashtag theme is to prompt both individuals and groups to use social media to facilitate discussions about the many ways in which "inclusion works".
To kick off NDEAM this year we wanted to take the opportunity to give an update on a valued member of the custodial team at our Bolling Air Force Base contract site.  Since January 2008 Patricia has been working for Goodwill and in late 2014 we took some time to sit down with her and learn more about her fascinating story.
During our time with her Patricia painted a picture of what it was like to overcome the obstacles that she had encountered throughout her life. You see, Patricia is not only an immigrant from Nigeria but is also deaf. The main catalyst for her move was the hope to provide a better life for her growing family as she was pregnant with her first daughter at the time.
At first, she had difficulty even getting into the country due to the tragic events of September 11th. When she finally arrived she received some support from an aunt who already lived in the U.S. and was able to find temporary employment but her circumstances lacked the stability that she truly desired. However, her strong will and perseverance would eventually pay off, leading her to Goodwill after a long period of unemployment.
Today Patricia is still with Goodwill and is praised for her hard work by her project manager. She even received a letter of commendation for her performance just a few months ago from one of the buildings on the air force base that she cleans.
Patricia is just one of the over 150 individuals with disabilities who work in our contracts division and they are all prime examples of how #InclusionWorks. The talents and work ethic that they bring to our organization every day make these associates valuable assets to the fulfillment of our mission and our overall success.
Like Patricia, every individual employed in our contract operations earns a starting wage (including benefits) of more than $15 an hour.
During the month of October we encourage you to join us in celebrating NDEAM by getting out there and making your voice heard and starting the conversations that will shed light on how #InclusionWorks.
Learn More About Our Contracts Division
Learn More about NDEAM: #InclusionWorks
---