As the economy continues to grow and more jobs are created there remains a gap in the unemployment rates between those workers with a disability and those without.
This is unfortunate. Goodwill of Greater Washington has demonstrated through our hiring practices that a disability is not an obstacle. In 2014, the percentage of our workers with a "documented disability" was 27%.
According to the Bureau of Labor statistics, the rate of unemployment among those with disabilities in the US was 13.2%. This was almost twice the rate of those without disabilities. According to that same report: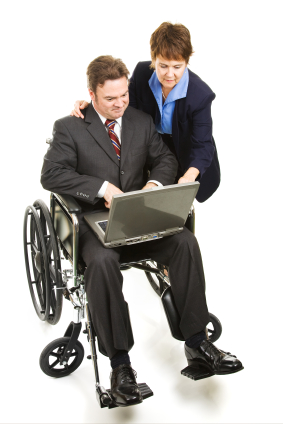 Persons with a disability were three times more likely to be over the age of 65 than those without a disability
In 2013, 34% of those with disabilities who were working were doing so part-time. This compared with 19% for those without disabilities
15% of the workers with a disability were employed by a governmental agency. This was similar to those workers without a disability
The analysis goes on to point out that race was less an indicator of unemployment than education. However, even when education levels are equal a person with a disability is less likely to be employed than one without.
The question is: why? While disabilities take many forms they are not always obvious. Nor, with the exception of potential physical demands, should they be a barrier to employment. We understand the hiring process is complicated and there are many reasons that could make someone unemployable, but should a person with a disability – who may already face multiple barriers to employment – be prevented from attaining gainful employment merely due to his/her disability?
According to a report from San Diego State University in 2011, these were the common barriers a candidate with a disability could face:
A tight job market is even tougher for people with disabilities
Employer attitudes and misconceptions about hiring people with disabilities
Social stigma, especially for certain hidden disabilities, like psychiatric disorders
Lack of workplace accommodations
An individual's attitude and awareness about his or her disability
Functional limitations resulting from a disability
Lack of education, job skills, or experience
Lack of or inadequate workforce services
Lack of financial resources
Lack of a support system
Lack of transportation, especially in rural areas
Certainly, many of the above barriers are real and should be an obstacle on the road to employment – like a lack of education, job skills or experience. That is an issue that would face any job seeker. However, social stigmas or employer attitudes come down to stereotyping. These judge the person based on their "category" rather than their ability to do the job.
There are some positive signs on the horizon. According to the Office of Disability and Employment Policy, the projections for job growth for those with a disability through 2022 are 10.4%. This compares favorably with 10.8% for those without a disability.
Unfortunately, persons with disability are over represented in 17 of the 20 fastest declining occupations. This includes postal workers, word processors and date entry clerks. They are under-represented in 16 of the 20 fastest growing occupations. This includes many jobs in the medical and physical therapy fields.
Why are those with disabilities under-represented in these growth categories? Is it based on perception? Could they feel like they do not have a chance because of their disability? Could it be employer perceptions?
We realize this is a multi-faceted issue and change will not happen overnight. It takes time to alter the attitudes and perceptions surrounding the disabled workforce. One place we can all start is by remembering this phrase – you can't judge a book by its cover.
Your thoughts?
---