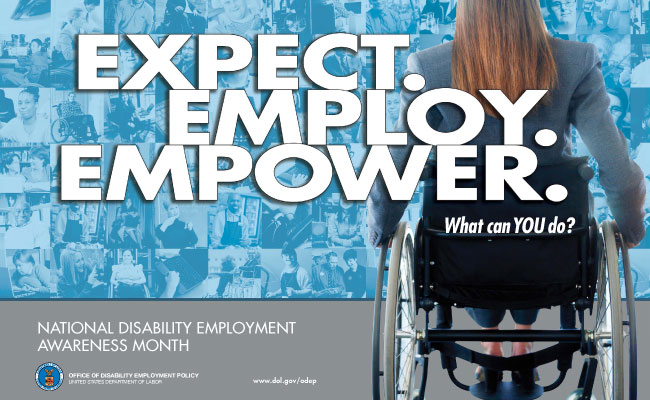 Did you know that people with disabilities have an unemployment rate of 14.1%? That is nearly twice the current national average.
Did you know that over two-thirds of people with disabilities want to work – and are actively seeking employment? Yet, they cannot find jobs.
Did you know that one out of every five Americans identifies as a person with a disability?
October is a time when most of us are thinking about Halloween or post season baseball, but for millions of Americans it is a month like any other. A month dedicated to finding gainful employment. And, if that American has a disability they are at a greater disadvantage at finding a job.
This is why Goodwill of Greater Washington joins in supporting National Disability Employee Awareness Month (NDEAM). This effort provides an opportunity for all of us to educate ourselves and others about employment issues and barriers faced by people with disabilities. It is also an opportunity to celebrate the many contributions made by people with disabilities to the American workforce.
This year's theme is: "Expect. Employ. Empower".  It  advances the idea that disability employment is about much more than hiring. It is about providing a continuum of inclusion. The first step in that process is expectation.
Goodwill of Greater Washington's stated mission is to "transform lives through education and employment." What better way to demonstrate the importance –and immediacy – of this mission than by using NDEAM to raise awareness for people with disabilities. While the skills and contributions of a person with a disability  should be valued and celebrated every day, NDEAM provides us all with an opportunity to use the public spotlight to support and advance this cause.
Throughout the month of October, we will be participating in various activities to show our support for this campaign. We invite you to join us in spreading the word.
Remember, not all disabilities are readily visible. Persons should be judged on their ability to perform a job. Let this October be the springboard for increased awareness and more opportunities for people with disabilities.
---