National Hispanic Heritage Month – Goodwill Celebrates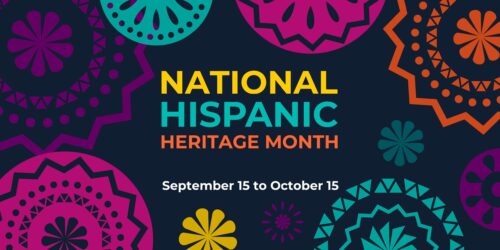 From September 15th through October 15th, Goodwill of Greater Washington observes National Hispanic Heritage Month, a month-long celebration of the cultures and contributions of both Hispanic and Latinx Americans.
According to the month's official website (https://www.hispanicheritagemonth.gov), "The observation started in 1968 as Hispanic Heritage Week under President Lyndon Johnson and was expanded by President Ronald Reagan in 1988 to cover a 30-day period starting on September 15 and ending on October 15. It was enacted into law on August 17, 1988, on the approval of Public Law 100-402. The day of September 15 is significant because it is the anniversary of independence for Latin American countries Costa Rica, El Salvador, Guatemala, Honduras, and Nicaragua. In addition, Mexico and Chile celebrate their independence days on September 16 and September 18, respectively. Also, Columbus Day or Día de la Raza, which is October 12, falls within this 30 day period."
The National Park Service's website is an excellent resource that provides a detailed background of the importance of Hispanic Heritage Month, as well as comprehensive information about each community that recognizes this holiday.
"Hispanic refers to a person who is from, or a descendant of someone who is from, a Spanish-speaking country.
Latino/a or Latinx refers to a person who is from, or a descendant of someone who is from, a country in Latin America."
Hispanic Heritage Month – NPS Celebrates! (U.S. National Park Service)
History.com also dives into the history behind the terms: Latino, Hispanic, Latinx, and Chicano: Latino, Hispanic, Latinx, Chicano: The History Behind the Terms – HISTORY.
"The histories of Latino and Latinas in America are diverse. They include the experiences of people with cultural, religious, and linguistic traditions from Spain, Mexico, Cuba, Puerto Rico, Dominican Republic, Guatemala, El Salvador, Costa Rica, and Nicaragua, among other nations from Latin America and Iberia. It is impossible to tell the experiences of these various groups with a single history. Some arrived in the United States as immigrants or refugees while others trace their ancestry to Spanish-speaking or indigenous peoples living in North America long before the establishment of the United States. Latino/as have established missions and businesses, raised families, built agricultural industries and labor unions, written novels and songs, and fought for civil rights in American courts.
The breadth of Latino/a experience is a vital aspect of America's rich and diverse past. The places explored here barely begin to hint at the varied ways their lives intersected with one another. Discover these remarkable stories preserved in our national parks and historic places." – National Park Service American Latino Heritage – Telling All Americans' Stories (U.S. National Park Service) (nps.gov)
To learn specifically about Latinx Heritage, we encourage you to read these additional articles and stories, brought to you by The National Park Service. American Latino Heritage – Telling All Americans' Stories (U.S. National Park Service) (nps.gov)
Across the nation, different communities celebrate National Hispanic Heritage Month in various ways, such as family-focused gatherings and community educational events. Washington DC's very own Smithsonian Institution is building a calendar of virtual panels and workshops:  Heritage and History Month Events | Smithsonian Institution (si.edu)
Love to read? The DC Public Library offers free literary resources: Hispanic Heritage Month | Mes de la Herencia Hispana | District of Columbia Public Library (dclibrary.org)