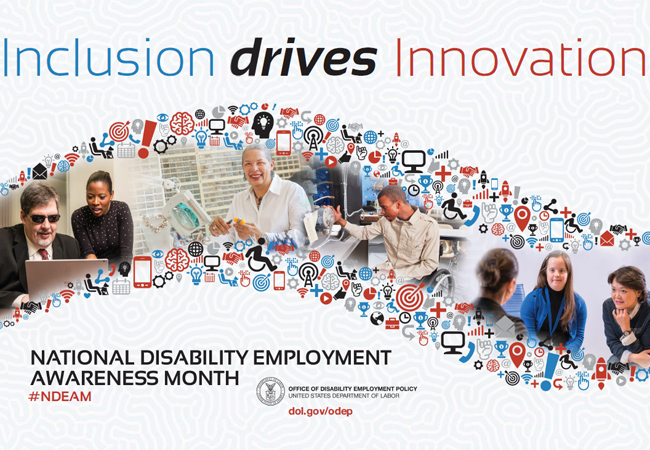 "Americans of all abilities must have access to good, safe jobs. Smart employers know that including different perspectives in problem-solving situations leads to better solutions. Hiring employees with diverse abilities strengthens their business, increases competition, and drives innovation." 
–U.S. Secretary of Labor Alexander Acosta
Every year, during the month of October, Goodwill of Greater Washington joins hundreds of companies across the United States in recognizing National Disability Employment Awareness Month (NDEAM). This campaign is an opportunity to educate our nation's workforce and facilitate discussion about disability employment issues and lift up the countless contributions of America's workers with disabilities. The theme for 2017 is "Inclusion Drives Innovation".
A key focus of Goodwill's mission of transforming lives and communities through the power of education and employment is to provide individuals with disabilities in the Washington D.C. area the opportunity to obtain sustainable employment. This initiative is accomplished through the hiring of over 130 individuals with disabilities in our contracts division through the AbilityOne Program.
AbilityOne is among the largest sources of employment on federal contract sites for individuals with significant disabilities in the United States. It is operated by an independent Federal Agency and employs more than 45,000 people across the country.
Goodwill's AbilityOne program provides employment opportunities including on-the-job training, a fair wage, and benefits for people with disabilities. This is all accomplished while providing the Federal government with quality custodial, pest control, and grounds maintenance services. The majority of AbilityOne associates are people with a developmental, emotional or physical disability.
Goodwill's AbilityOne Program associates provide services to eight sites across the region:
Adelphi Laboratory Center
Bolling Air Force Base
Bureau of Engraving & Printing (Goodwill celebrated it's 35th anniversary at this site earlier this year making it our longest running contract)
General Services Administration
Government Printing Office
National Gallery of Art
United States Geological Survey
US Food & Drug Administration
It is a tremendous honor to work alongside these individuals within our organization. Like all of our over 900 associates, they play a pivotal role in the success of Goodwill and the fulfillment of our mission.
We encourage you to join us as we celebrate NDEAM and show some well-deserved appreciation to those individuals with disabilities who help make our workforce stronger and more innovative.  And thank you for remembering the populations Goodwill serves.
---