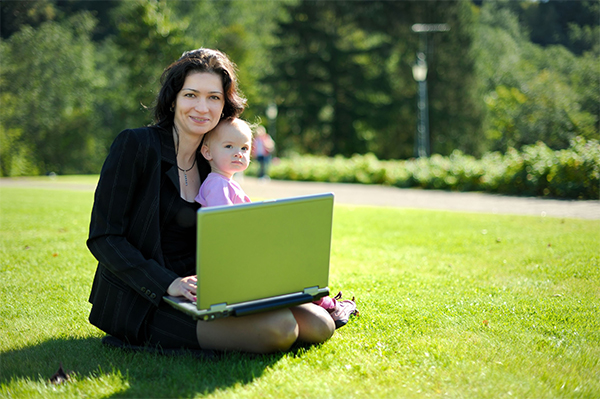 Searching for a new job is a daunting task. But, imagine if you were in the marketplace with the following experience:
Nursing, Teaching, Nutrition, Food Preparation, Accounting, Counseling, Child Care, Transportation Coordinator…
You would think this particular set of skills would make you an in demand candidate for any employer. Then, imagine none of these skills can appear on a resume because you didn't technically "work" for anyone.
The above list could be considered a brief job description of a stay-at-home Mom. And those only scratch the surface of what they do on a daily basis. Yet, when a woman with those qualifications and years of experience attempts to enter the workforce she is labeled as "inexperienced".
This is the theme of The Comeback: How Today's Moms Reenter The Workplace Successfully by Cheryl Casone. The services performed by stay-at-home moms have an enormous impact on our society. Yet, they are valued at the bottom of the food chain while enduring tremendous guilt for leaving their at-home job for one in the "real" world.
The book is full of tips and stories designed to empower the stay-at-home Mom in her quest to re-join the workday world. However, it is also something that any employer should consider. These women have devoted their lives to raising their families. As anyone who has raised, or is raising, a child knows this is a complex (and tiring!) task.
The book plays to a larger issue though – the disadvantaging issues for those attempting to reenter the workforce. Few would consider being out of the workforce for an extended period – for whatever reason – to be a disadvantage. However, it clearly is.
Consider a stay-at-home Mom doesn't have any prior job references (unless you call her kids), has no skills that fit neatly into a resume format, and likely has few contacts in the business world. Sure, many have an educational background and have had some sort of work experience prior to making the difficult decision to stay at home. But that was years ago. Employers are looking for the easiest solution to their workforce challenge. A candidate like this requires them to look beyond the resume and consider the individual.
Then there are those women who chose to take a break in their careers and are trying to return to their original positions. Generally, the "hole" in their resume becomes a stumbling block. It creates reasons not to hire; like they are not current with the latest lingo or technology.
Rather than making this a hurdle for would be employees shouldn't we instead celebrate their sacrifice and achievements? We're not saying a stay-at-home Mom should walk directly into the C-suite. But to be presented with seemingly insurmountable hurdles seems like an inappropriate reward for their years of dedicated service.
At Goodwill we serve a broad range of individuals who are facing disadvantages in reentering the workforce. However, those in the stay-at-home Mom category often do not think to contact organizations like ours for help in making that transition.
We offer job training programs as well as assistance and advice on how to write a resume, use social media, how to approach an employer, and how to conduct yourself in a job interview. These helping steps could be just what a former stay-at-home Mom needs to make her move.
Do you know someone who fits this description? If so, please tell her Goodwill is here to help.
---