Did you know that those old acid wash jeans and flannel shirts that you've just been unable to part with are now in great demand?
I'm sure you have lamps that no longer fit your home décor, TVs that aren't flat screen, and pots and pans that are falling out of your cabinets.  Yup, those items are in demand too.
While the resale of donated goods has been helping charitable organizations like Goodwill fund a variety of social services for decades, the strategies being implemented to generate those donations are rapidly changing.
For years, Goodwill, the Salvation Army, and others have relied almost exclusively on generous donors bringing their excess supply of clothing and household goods to donation centers scattered throughout the community.  Items were neatly packed into boxes, labeled, and delivered to the nearest donation center; which for some could be several miles away.
While these charitable agencies still rely heavily on those donation drop-off points, Goodwill is taking a new and innovative approach to making the donation process easier for you.  We call it "getting closer to the donor".
Goodwill's goal is very simple:  to ease the donation process and improve efficiency for the donor, thereby building stronger brand loyalty.  The fact of the matter is that while all donors are generous, many are more influenced by the convenience of donating than they are by the charitable mission their donation supports. Research bears this out. 
Goodwill hopes to improve donor loyalty with a two pronged strategic approach: Improving the understanding and importance of its mission while also improving the convenience of the donation process.
The first action step is clear:  Goodwill will continue to integrate its mission into all of its core messaging, immersing donors and shoppers in its cause so they cannot help but understand how their donations and purchases are positively impacting the community through job training and supportive services.
However, to tackle the second step, Goodwill is utilizing a combination of mobile technology and a unique approach to traditional push marketing.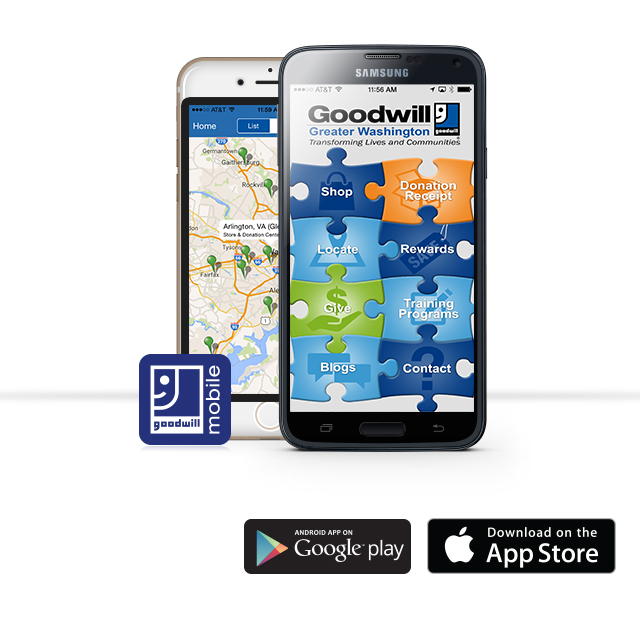 We recently developed a new mobile app feature called the Mobile Donation Management Tool. This feature on the DC Goodwill mobile app (iOS and Android) allows the donor to create their own donation receipts, edit and itemize their receipts when they want, and save them in a web based profile that remains active for as long as the donor wishes.
Each visit by the donor to a Goodwill Donation Center is confirmed on the app through the use of geo-fencing technology. When the donor enters the geo-fenced area of a Goodwill donation center, their donation center visit is instantly confirmed in case the IRS comes calling for an audit. 
When the donor is ready to print their donation receipts, they simply email the receipt to themselves right from their smart phone and hit the print button.  It's that simple. 
No more keeping track of all those tiny paper donation receipts and trying to remember where they are come tax season; no more need to itemize a box full of goods on four small lines; no need to guess at a fair market value to attach to your goods. All of this can now be managed through the app, making the donor's life and the donation process a whole lot easier.
Additionally, Goodwill is pushing out the donation process directly into homes, thereby eliminating the need for many donors to even get into the car in order to make a donation.
Goodwill of Greater Washington will soon be piloting two new donation programs:  The goBin donation box and the Mail your Donation campaign.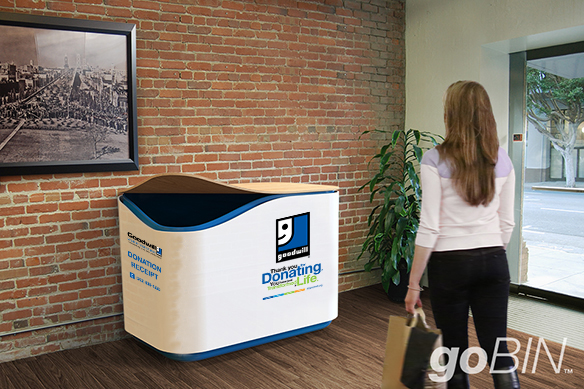 The goBin is a professionally designed and aesthetically appealing donation box that will be placed inside a select group of high end apartment buildings throughout the greater Washington, D.C. area. 
The boxes will be conveniently located where tenants can just drop in an unwanted pair of shoes or a bag full of clothing on their way out the door.  A sensor will be attached inside the box sending a signal to Goodwill when the goBin is almost full so that the box can be emptied before it starts to overflow, mitigating any negative impact on the ambiance of the building.  If the pilot is successful, Goodwill will roll it out market-wide and potentially beyond.
The Goodwill Mail your Donation campaign will allow donors to simply schedule a home pick up of donated goods right from their front door.  The donor will only need to follow these four easy steps:
Put your clothing donations in a box and seal it
Visit the Goodwill of Greater Washington website and schedule a donation pick-up
Print and affix a mailing label to the box
Leave the box outside your front door on the scheduled pick-up day for the postman to deliver directly to Goodwill
Boom!  Donation complete.  Goodwill even pays for the postage. Donation receipts will be mailed to the donor once the donation is received.  We anticipate rolling out both of these pilot programs very soon.
Goodwill understands the critical importance of each and every donation made to us.  Donations are the lifeblood of our social enterprise.  Without them we would be unable to provide free job training and employment services to people with disabilities and disadvantages leading to greater independence, dignity, and self-sufficiency.
We are always trying to find new and innovative ways to enhance the donor and shopper experience while improving their affinity for our cause.
To all of our donors we say, thank you!  We hope that our efforts will help you continue to build trust in Goodwill and loyalty to our mission.
---