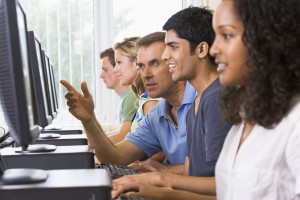 The Federal-State Unemployment Insurance (UI) Program provides cash benefits to eligible workers who are unemployed through no fault of their own and who meet additional eligibility requirements. According to the United States Department of Labor, the determination as to who qualifies as unemployed through "no fault of their own" and those that meet the additional eligibility requirements vary and is determined by the state or jurisdiction. The amount of the benefit and the length of time allowable to grant the assistance is also determined by the state or jurisdiction under which unemployment claims are established, however most states award benefits based on taxes imposed on employers. Each State administers a separate unemployment insurance program within guidelines established under Federal law. The intent of unemployment insurance payments is to provide temporary financial assistance to unemployed workers.
Snapshot of Eligibility Requirements
You must meet the state requirements for wages earned or time worked during an established period of time referred to as a "base period". (usually the first four out of the last five completed calendar quarters prior to the time that your claim is filed.).
You must be determined to be unemployed through no fault of your own and meet other eligibility requirements of State law.
You must check with your local or state employment agency to determine additional eligibility requirements.
How Do I File a Claim?
You should contact the State Unemployment Insurance agency as soon as possible after becoming unemployed. In some states, you can file a claim by telephone or over the Internet.
File your claim with the state where you worked. If you worked in a state other than the one where you now live or if you worked in multiple states, the state UI agency where you now live can provide information about how to file your claim with other states. Contact information for other states can be found at http://www.workforcesecurity.doleta.gov/unemploy/agencies.asp.
If you are a District of Columbia resident, you can access UI claim and eligibility information at http://does.dc.gov/page/unemployment-compensation
When you file a claim, you will be asked for certain information, such as addresses and dates of your former employment. To make sure your claim is not delayed, be sure to give complete and correct information.
It generally takes two to three weeks after you file your claim to receive your first benefit check. Some states require a one-week waiting period; therefore, the second week claimed is the first week of payment, if you are otherwise eligible.
I Received My First UI Benefit Payment, Now What?
You must file weekly or biweekly claims and respond to questions concerning your continued eligibility. You must report any earnings from work you had during the specified week. These claims are usually filed by mail or telephone; the State will provide filing instructions.
If claimants are determined to have received benefits to which they are not entitled, they will receive a written notice that explains the amount overpaid and the reason for the overpayment. Individuals who are overpaid are liable for full repayment to the state. Future unemployment benefits due may also be withheld to satisfy outstanding overpayments. If repayment is not made, legal action will be taken to collect the overpayment. You must also report any job offers or refusal of work during the week.
When directed, you must report to your local Unemployment Insurance Claims Office or One-Stop/Employment Service Office on the day and at the time you are scheduled to do so. If you fail to report as scheduled for any interview, benefits may be denied.
You must continue to meet the eligibility requirements for which you were approved in order to continue receiving the benefit.
Registering For Work
Claimants who file for unemployment benefits may be directed to register for work with the State Employment Service, so it can assist them in finding employment. Even if not required to register, claimants still may seek help in finding a job from the Employment Service. In the District of Columbia, American Job Center information can be found at http://does.dc.gov/page/job-seekers.
Training may be necessary for job seekers in order to transition back into the workforce. Goodwill's skills training programs can help! Find more information about our programs and how to register by visiting our website at https://dcgoodwill.org/education2/free-job-training-programs/.
Goodwill's mission is to help remove barriers to employment by providing free job training and employment services to those who need assistance.  If you know someone who is struggling to find or retain employment, please have them contact us at 202-636-4225 or share our job training page.
---