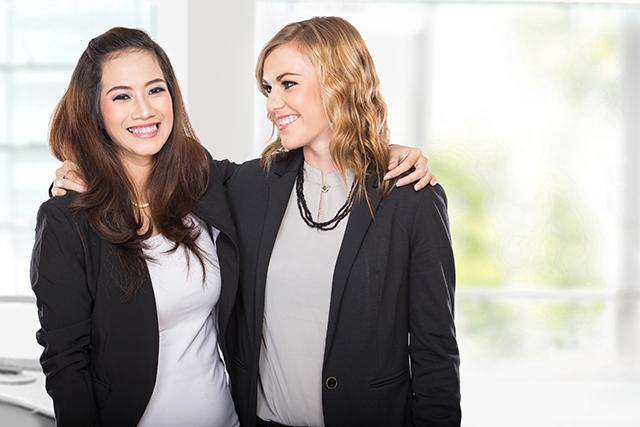 It is said that the happiest employees within a company almost always tend to have a "Best Friend" at work – someone that they can bounce ideas off of without fear of criticism; that they can vent to when dealing with workplace frustrations; or simply someone whose company they enjoy inside and outside the office.
However, it is rare that a workplace best friend is one's supervisor or subordinate.  Why?  Simply put, because there are boundaries that need to be established in the workplace to ensure accountability and fairness.
In a white paper by Penn Behavior Health Corporate Services, the author suggests that professional boundaries can be more clearly defined by answering the following questions:
Who gives you your assignments?
To whom do you report?
Who gives you feedback?
Who sets your work priorities?
How is your company and client personal information kept secure?
Do you know how to treat all staff members fairly without positive or negative feelings influencing your decisions?
Note that the five of the six bullet points focus on responsibilities that relate directly to the supervisor/subordinate relationship.
We're all human and we cannot turn off who we are once we cross the office threshold. We often spend more time with our co-workers than we do with our own families. It's natural for us to form close relationships with people that share the same day-to-day experiences as we do. Further, we almost always want to foster those relationships to make the workplace environment even more productive. After all, who wants to work with robots? That said, fostering personal relationships with a superior or subordinate is rife with pitfalls and problems and should likely be kept at a safe distance.
In an article for Inc Magazine, Marla Tabaka provided 7 reasons why a boss cannot be friends with employees:
1) It's not scalable.  In other words, friendship with one employee will eventually be seen as favoritism by the others.
2) They won't take you seriously. As a boss, your final decisions must be respected.
3) It will complicate your relationship. Friendships are based on equality.  Friendships with employees create complications.
4) Their personal issues will get in the way. Compassion and understanding may be important values to you; take it too far and you will jeopardize the day-to-day operations of your organization.
5) You might share things you shouldn't. Pretty self-explanatory concern.
6) It's not fair. When it's time to promote, assign bonuses, and grant growth opportunities, you may find it difficult to separate your personal feelings from professional observations.
7) It's hard to fire a friend. You can't debate which is more important:  the friendship or the job performance.  At work, there is only one answer.
I once had an employee with whom I became very good friends.  I was promoted to another position and needed to bring aboard an associate to work under me.  While I interviewed my "friend" for the position, I ultimately offered the job to another candidate.  Needless to say, that was very hard for me to do and it left my friend feeling slighted.  "How could I do this to him," is what he thought and shared with me in a conversation about the situation years later.  There was also a part of me that questioned whether my friendship worked against him because I was very conscious of not wanting to appear to be playing favorites.  In retrospect, he probably was better suited for the job than the candidate I hired.  Needless to say, my decision resulted in creating a big rift in our friendship that took years to repair.  Had I better managed that friendship early on, it wouldn't have been an issue to begin with.
As Tabaka goes on to say in her article, there is nothing wrong with being "friendly" at work.  I believe you can even enjoy an occasional lunch or cocktail with your employees or your boss.  However, there is a fine line between being friends and being friendly colleagues.  Be careful to avoid the former or you may find that your friendship will cost one of you your job.
For more information on Manager/Employee friendships read:
Is There Such Thing as a True Boss-Employee Friendship?
Can You Be Friends With Your Boss?
---