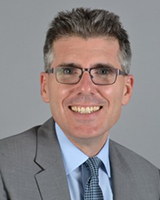 James MacGregor, publisher of the Silicon Valley Business Journal in San Jose, California, has been named publisher of the Washington Business Journal. The parent company of both publications, American City Business Journals, announced the move Tuesday. MacGregor, 45, succeeds Alex Orfinger, who in September was promoted to executive vice president at ACBJ after 18 years as publisher in Washington.
"There is incredibly great talent here," MacGregor said after he was introduced to the staff by American City CEO Whitney Shaw at the news organization's Rosslyn office. "And when you have great people, you can do lots and lots of great things."
MacGregor, a native of Toronto, has been publisher of the Silicon Valley Business Journal since September 2007. Prior to that, he was advertising director of the San Francisco Business Times, a position he landed in 2002 when he joined American City Business Journals.
In San Jose, MacGregor led a publication that focused heavily on breaking news stories in the commercial real estate and technology arenas.
"I see opportunity here, especially around the burgeoning tech here in D.C.," said MacGregor. "I'm hoping we can replicate the success we had with that in San Jose."
MacGregor's first plans are to get to know the D.C. market, and he said he encourages Washington Business Journal readers to reach out to him.
"If you have a question, if you have a comment, if you have a criticism, email me at jmacgregor@bizjournals.com," MacGregor said.
MacGregor and his wife, Oriana, and children Stella, 7, and Robert, on the cusp of 2, will relocate to the area soon. The self-described "long-suffering Toronto Maple Leafs fan" said he will also be reaching out to fans of the NHL competitors.
"If you're a Washington Capitals fan, I'd love to hear from you," MacGregor said.