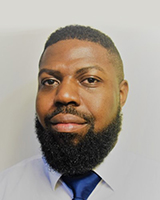 Graduation day celebrates the hard work and determination needed to complete our training programs. But for 2021 Goodwill graduates like Damien, this milestone also marks the next step in their journey toward new careers.
The Energy and Construction Careers Training Program opened the door for Damien into an industry he wanted to get into, but didn't know where to start. The program sponsored in partnership with Washington Gas prepares graduates for careers in this high-demand sector.
Classes were mainly virtual – except for hands-on construction workshops and a field trip to a Washington Gas training center. The virtual format allowed Damien to adjust his work schedule for his job in insurance, while gaining the foundation, training and confidence to set smart goals toward a new career in construction.
Damien achieved his goal in October starting a new job as an Assistant Project Manager with a natural gas utility contractor. In his graduation speech, Damien shared how the community built through the program expanded his perspective on opportunities to grow in the field.
"When I learned that Goodwill had a learning center that offers certifications and assistance with job placement, I didn't know exactly what to think. Does Goodwill specialize in helping people who are in need? Yes. But what do they know about Energy & Construction? I figured I better attend their virtual open house to find out.

I was pleased with what I learned, but could they deliver? Could they take someone who doesn't have any actual experience in this field and make employers want to take a chance on them? At the completion of yesterday's hiring event, I can confidently say 'Yes they can.'

I didn't have the first clue as to how to get my foot in the door with Washington Gas and any other major utility or construction company in this area… I went from being passed over by recruiters and hiring specialists to interviewing with organizations that work directly with Washington Gas or who provide gas to millions themselves. Recruiters who were taking time out of their day to tell me why they are a good opportunity for me and why I should I join their organization.

That really does speak to the rapport that Goodwill has within the Energy & Construction business. We had instructors that took a true interest in our learning and our path to success.

Now for my classmates, the other half of this great experience. I was placed in a class with 17 other individuals who are all cutting and shaping their own path to success. Some have experience in this field, but one thing we have in common is that we are willing to work for what we want, and that is success. Does that success look the same for everyone? Absolutely not, but whatever it looks like to you, it is a goal, and if it is a goal then it is attainable."