For each workforce training graduation, students select one or two classmates to share about their experience. Takia was selected as one of the graduate speakers for our November 2021 Security and Protective Services training class. We wanted to share that speech as part of our 2021 Graduate Reflections Series.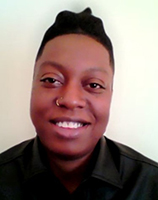 "I would first like to thank the Greater Goodwill Program staff for accepting me into this program. I came in thinking I was only going to receive training and certifications to become a security officer, but to my surprise, I received life, social and personality skills that will stick with me forever. I've met some wonderful classmates who all seem eager to reach their personal goals…
I would personally like to thank Ms. Janet Hughes for being one of the most energetic and pleasant persons I've met! Her energy is truly contagious. Also, to Mr. Martin for always being there to assist with anything he could, especially my personal goals. Ms. Tamela Brown for her encouraging words through our interviewing process. Lastly, Mr. Jon Crews for being the straight-forward, highly knowledgeable and dedicated trainer to the Goodwill students.
All of you collectively have given me the best skills, advice, training and life-changing ways of positively handling situations that I will cherish and carry with me forever. And for my fellow classmates. I believe that we all have the power to accomplish anything we put our minds to. We've proven that today! I wish you all the very best on your new journeys. I would truly recommend this program to anyone."