March 16, 2021. That was Natacha's first day on her new job. But her journey and determination to reach that day began a year ago – before life was interrupted by the pandemic.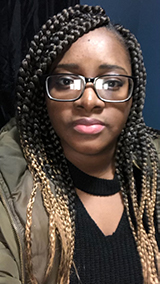 I had shopped at Goodwill but first learned about their training programs through a flyer from the local job development center. I was an aide at a group home for adults with developmental disabilities but wanted to enroll in a nursing assistant program.
When my mother had cancer, I loved how the people on her healthcare team cared for her. Becoming a nurse has always been my goal. I had some experience in the industry, what I didn't have were the credentials to give me more options.
I was really happy to get accepted into Goodwill's healthcare program. I planned to take classes from 9 a.m. to 2 p.m. and work from 4 to midnight. Then COVID hit.
I was laid off for two months because the group home needed people who could live onsite full-time. I have a young daughter so that didn't work for me. I resigned when the group home asked workers to return but changed to 12-hour shifts. It made childcare a problem and I needed to be there for my daughter, who is now two.
Goodwill had to cancel their in-person healthcare training. But I was hopeful because their email said they were exploring a new virtual program, which I started last May.
Online learning was an adjustment because I learn better being in a classroom. But my Career Coach, Ms. Monique, and Ms. Lisa from Goodwill were always there. They sent links to videos and online resources where I could further my skills.
I graduated in 28 weeks studying at night after my daughter went to sleep. Given how well I did with training for my Certified Medical Administrative Assistant credentials, Goodwill encouraged me to keep going. I earned two more certifications – Certified Clinical Medical Assistant and Certified Customer Service Professional.
Did You Know?
Goodwill launched our first virtual healthcare training in May 2020 building on an existing partnership with Employ Prince George's and a new partnerships in MedCerts. MedCerts gave students laptops to complete self-paced, online training. Goodwill provided career coaching and job placement assistance.
Goodwill did everything possible to put me in the best position to succeed. Ms. Tamela sent me job leads. I got Lyft credits to get help with my cover letter, resume and attend job interviews. They provided a Goodwill store voucher to get interview clothing.
MedCerts also connect me with a one-month internship to get more hands-on experience at a DaVita dialysis center.
I am really shy and still not entirely comfortable with interviews. But the practice I got through Goodwill made me more confident and employers liked my enthusiasm.
I didn't have any certifications or a career when I started the healthcare program. Now I'm on my way to do something good for myself, my family and our community.