In August, the Goodwill Excel Center marks its fifth anniversary fifth anniversary providing a pathway for District residents – 376 to date – to earn their high school diplomas. The newest graduating class received their high school diplomas July 15th amid cheers and applause from family and friends.
For the first time in 18 months, we welcomed guests in person along with Excel Center staff and our Goodwill team to celebrate the 59 District residents who earned their diplomas. Nationals Park provided the perfect backdrop for the ceremony to recognize their achievement. We wanted to share a few words from the two graduate speakers – Asma Fatmi and Sheila Glenn – on reaching that milestone.
Valedictorian Asma Fatmi Talks About Living in Two Cultures and How It Shaped Her Life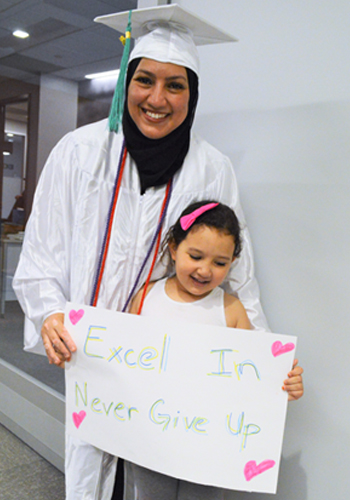 Valedictorian Asma Fatmi shared about the combination of two different cultures that shaped her life. Born in Idaho while her parents were completing graduate studies, Asma grew up in a home of wealth and privilege in Morocco. Yet she felt unsure of herself and wanted to find her own identity.
"I wanted to be my own leader, not a follower."
The first time she traveled without her family was her solo flight to Washington, DC, in 2012 to pursue her dreams in the United States. Asma said she arrived with no English, no communication skills, no real-life experience. She worked hard over the next three years to learn the language, got married and had a daughter. But her work environment was tough. Asma said some managers bullied her due to her lack of business knowledge, education and accent. Despite the challenges, Asma said her daughter was the biggest motivation to continue her education. The support she found at the Excel Center also gave her confidence and the communication skills to rebuild her marriage.
"After a few classes, I was pulled out of my comfort zone and pushed into a completely different environment. I learned that life is a journey. It's about growing and giving ourselves new opportunities, to continue and learn new skills we will carry with us for the rest of our lives. My journey at the GEC made my life. Transformed my weakness to strength. Developed my communication skills, self-esteem, and most important – I learned how to ask for help. How to speak up and never look down at myself. I learned that if you just ask – you will be surprised how people can help you with just one word. Today, I am a strong and independent Moroccan American woman, who defeated all her fears and society stereotypes. I am a woman who changed her life by believing that Allah will always have a better plan for me, and everything, good or bad, happens for a good reason."
Salutatorian Sheila Glenn Pushes Through Challenges to Earn Her Diploma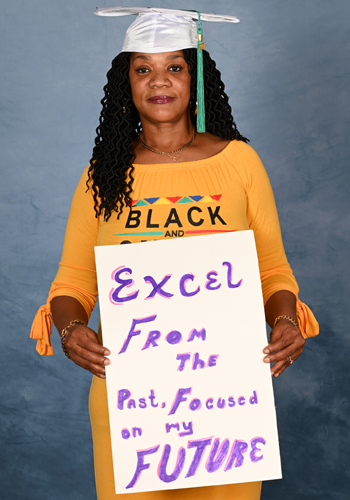 Salutatorian Sheila Glenn pushed through obstacles and adversity to overcome addiction and earn her diploma. She described being burnt out and separated from reality in her addiction. If she didn't make a change, Sheila realized she would find herself in the same place as those around her struggling with the same challenges.
"My main reason for wanting to stop using and abusing was that I wanted to LIVE. NOT JUST EXIST. So, ON MY OWN, I went into treatment. Once I got out of my WAY, and my MIND was FREE from substances, there was NOTHING to stop me."
Sheila put that determination to work and in three years earned multiple industry certifications – electricity, plumbing, carpentry and HVAC technician. She then followed her dream and earned her Commercial Motor Vehicle License to drive 18-wheelers cross-country.
But earning her high school diploma was the nemesis she still had to conquer. Sheila learned about the Excel Center in treatment and knew she owed it to herself to apply.
"I can confidently say, that today, I am secure in my recovery. My past, inner demons no longer exist. I HAVE REDISCOVERED MYSELF.
The pride and stubbornness to do what my former self wanted to do, when she wanted to do it in a negative way, IS LONG GONE.
Oh, but don't get me wrong, I am still proud and stubborn, But… I have humbled myself to be teachable. NOW, I use my pride to stand before you – strong, healthy, and much wiser.
NOW, I use that stubbornness to keep momentum to reach higher goals that I have set for myself…
As I rise, I hope to lift others up with me by being another example of what recovery can do for you, if you put the work in.
This speech was focused on recovery. Because it had to come FIRST for all that I have and will achieve to be possible. I am still TOO proud and stubborn to be held down any longer."
---
With a lease now signed, plans are underway to open a second Excel Center campus in the historic Southwest Waterfront area that will allow the school to serve more District residents in the coming years.
---