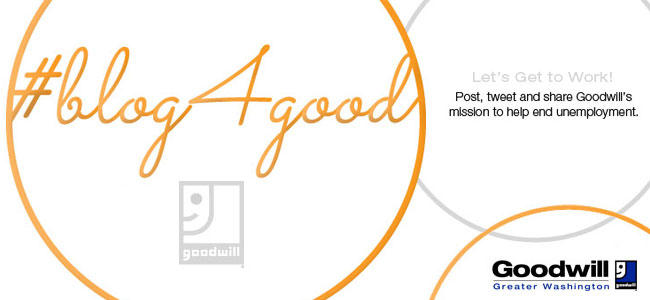 #blog4good is a social media campaign to help end unemployment through a network of DC based bloggers.
May 4th, 2014 through May 10th, 2014 marks Goodwill Industries Week, an annual celebration of Goodwill's mission to provide free job training and employment services to people with disabilities and disadvantages.
In support of Goodwill Industries Week, we are bringing back #blog4good – a social media campaign designed to help put the most vulnerable members of our community back to work by asking regional influencers to devote one blog post that week to explain how Goodwill impacts lives and communities in the Washington, DC area.
---
#Blog4Good Did You Know?
In January the unemployment rate in the District of Columbia was at 8.1% compared to 5.5% just six years ago
The unemployment rate in DC's Ward 8 still exceeds 17.7% and is the highest in the country!
The people Goodwill serves want to work, but lack the skills, education, resources or opportunity.
---
We want to make it easy for bloggers to get involved by providing this Tool Kit that includes a sample blog post, sample social media posts, fact sheet, banner ads, logos, and a video link for anyone who wants to support the campaign.
Download the #Blog4Good Promotional Tool Kit
We believe that #blog4good will have a measurable and lasting impact on the organizations's powerful work while offering life changing hope to the people who will benefit from its free training programs and employment services. See how Goodwill is impacting lives, you can view this recent mission video.
Goodwill will be tweeting, posting on Facebook, and sharing on its Goodwill Fashionista blog to recognize #blog4good participants while creating a growing social network of Goodwill advocates.
---
#Blog4Good Widget For Your Website
Select a widget, and copy & paste the widget code into your website to support #blog4good.
<a href="http://blog4good.dcgoodwill.org/" title="We support #blog4good to help end unemployment">
<img src="https://dcgoodwill.org/wp-content/uploads/2014/04/b4gButton125x125.jpg" width="125″ height="125″ alt="We support #blog4good to help end unemployment"> </a>
<a href="http://blog4good.dcgoodwill.org/" title="We support #blog4good to help end unemployment">
<img src="https://dcgoodwill.org/wp-content/uploads/2014/04/b4gSquare250x250.jpg" width="250″ height="250″ alt="We support #blog4good to help end unemployment"> </a>
<a href="http://blog4good.dcgoodwill.org/" title="We support #blog4good to help end unemployment">
<img src="https://dcgoodwill.org/wp-content/uploads/2014/04/b4gBanner700x300.jpg" width="700″ height="300″ alt="We support #blog4good to help end unemployment"> </a>
<a href="http://blog4good.dcgoodwill.org/" title="We support #blog4good to help end unemployment">
<img src="https://dcgoodwill.org/wp-content/uploads/2014/04/b4gFullBanner468x60.jpg" width="468″ height="60″ alt="We support #blog4good to help end unemployment"> </a>
<a href="http://blog4good.dcgoodwill.org/" title="We support #blog4good to help end unemployment">
<img src="https://dcgoodwill.org/wp-content/uploads/2014/04/b4gLeaderboard738x90.jpg" width="738″ height="90″ alt="We support #blog4good to help end unemployment"> </a>
<a href="http://blog4good.dcgoodwill.org/" title="We support #blog4good to help end unemployment">
<img src="https://dcgoodwill.org/wp-content/uploads/2014/04/b4gskyscraper120x240.jpg" width="120″ height="240″ alt="We support #blog4good to help end unemployment"> </a>
<a href="http://blog4good.dcgoodwill.org/" title="We support #blog4good to help end unemployment">
<img src="https://dcgoodwill.org/wp-content/uploads/2014/04/b4gskyscraper160x600.jpg" width="160″ height="600″ alt="We support #blog4good to help end unemployment"> </a>