#sharethegood is a social media campaign to show how each of YOU do GOOD and positively impact our community everyday by shopping and donating in support of Goodwill's mission.
How #sharethegood Works
Tag your photos online with #sharethegood anytime you donate at Goodwill, shop at Goodwill or participate in any way that does good to further our cause. You'll be sharing your efforts with a community of like-minded Goodwill advocates who are doing good alongside of you to help the people we serve achieve self-sufficiency.
Did You Know?
Did you know in 2016 Goodwill of Greater Washington opened the first adult public charter school in DC, The Goodwill Excel Center, that awards a high school diploma and industry certifications rather than a GED? #sharethegood
Did you know, when you donate used goods to Goodwill, you keep waste out of area landfills while helping people find jobs!#sharethegood
Did you know, With each new store and donation center Goodwill opens, 25-30 new jobs are created!#sharethegood
---
Download #sharethegood Promotional Materials
Facebook & Twitter Banners
Facebook & Twitter Profile Images
Facebook & Instagram Post Images
Website Promo Images
Website Widget Images
Website Link Buttons
An Example of How to #sharethegood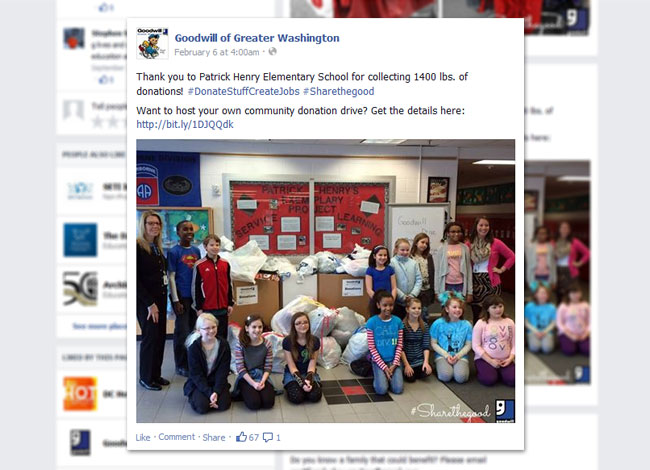 Thank YOU for doing GOOD and helping us #sharethegood!