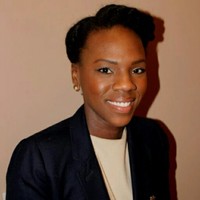 Andrea Gourdine
Young Professionals Council
Senior Development Manager,
Douglas Development
Andrea is a senior development manager with Douglas Development. Douglas Development is one of the most active developers in the Washington DC market, with well-known development projects in DC neighborhoods including Shaw, Chinatown and Ivy City. Andrea is originally from upstate NY and has lived in the DC are for over 15 years. She joined the YPC in 2016 and served as board co-chair in 2017.
Why did you join the YPC?
I met a Goodwill staff member when I was organizing a Ward 5 job fair with Department of Employment Services and the Mayor's office. The staff member and I got along very well and she convinced me to attend an YPC meeting close to my office. I have always been passionate about Goodwill's mission and wanted to be more actively involved in helping others further their educational and professional lives.
What is your favorite YPC event?
Networking happy hour at Eddie V's in Tysons's Corner. It was a great group of Goodwill staff, volunteers and friends. We ended up staying a couple hours longer than the event was supposed to end because people were chatting amongst one another for a long time.
What is your best Goodwill/thrift store find?
Leather skirts, wool blazers and winter coats. Pretty much any clothing you buy at Goodwill can be re-purposed.
---