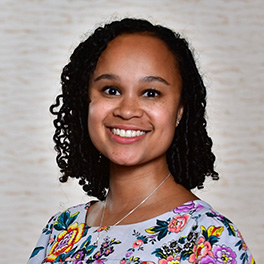 Taylor Valentine
Young Professionals Council
Consultant,
Deloitte's Federal Practice

Taylor is a consultant within Deloitte's Federal Practice, where she supports government agencies in driving strategic change through big data and analytics. Originally from Philadelphia, she has lived in DC for over three years. In her free time, Taylor enjoys kickboxing, traveling, and trying new recipes.
Why did you join the YPC?
I joined the YPC because it offered a wonderful opportunity to both give back to a city that has given me so much as well as work with a diverse and interesting group of young professionals.
What is your favorite YPC event?
The Halloween happy hour! It brings in so many new faces and who doesn't love a good mask making competition?
What is your best Goodwill/thrift store find?
In college, my roommates and I found a beautiful wooden coffee table at a Goodwill store. After a round of polishing, it was perfect for our dorm room. In fact, one of my best friends has it in her apartment to this day!
---