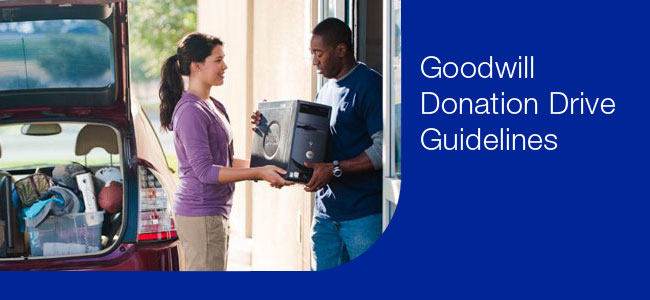 Organizing a donation drive with Goodwill is easy and beneficial to your community.
Clothing, furniture, books, and working electronic donations are sold in Goodwill stores, keeping them out of landfills. The money from the sale of your donated items helps Goodwill provide free job training, job placement, and career services for people and families in your community.
Plan Your Donation Drive
Here are 8 easy steps to planning your event (we recommend that you allow 3-6 weeks for planning).
Form a small group of people to coordinate the drive.
Decide on the period of time you will be holding the drive.
Register your drive with Carolyn Becker, Senior Manager of Communications & Community Engagement, by email. It is important that Goodwill is aware of your plans to hold a drive so we can support you along the way. Goodwill will help you by providing PR for the event when possible, promotional materials and assistance in coordinating the drop-off or pick up of the donations.
Choose a theme for your drive (ex: run the drive in connection with a holiday, special event, or corporate initiative).
Establish commitment from key players in your group or organization (Ex: management, administrators, teachers, etc.)
Set a goal for the amount of items or pounds of goods you will collect. Suggest that each participant bring in one dozen household goods or clothing neatly folded or on hangers.
Decide if additional promotional materials will be needed to successfully promote the drive, and contact the Goodwill Marketing & Communications Manager. The materials available for promotion include: brochures, posters, and balloons.
Organize the delivery of the donations at the end of the drive with Goodwill Marketing & Communications Manager. Goodwill can provide donation receipts as needed.
---
Donation Drive Promotion
Let people know what you are doing and how to get involved. Here are some suggestions:
Schedule a fun kick-off event.
Display posters and information in key locations throughout the office (ex: copy room, break room, elevator ).
Host a "Spread the Goodwill" information meeting. Take a few minutes in the morning or at the end of a meeting to explain how they can make a difference!
Include an article about the drive in your company newsletter.
Send a company wide email.
Include a flyer in employee paychecks.
Set up a display or bulletin board in the office or break room to inform coworkers of the project.
Develop a collection system and create a drop-off location/ box in a central location (ex: lobby).
---
Energize Your Donation Drive
It is always important to make the event fun for everyone involved. Here are some ideas:
Encourage friendly competition between departments, classes, and offices.
Challenge a rival company or school.
Offer incentives or prizes (ex: stickers, dress-down days, pizza party).
Organize a fashion show with the donated clothing.
Assign a point value to different items and have an incentive for the person or team with the most points (ex: jeans – 10 points, shirts – 5 points, shoes – 8 points).
---
Celebrate Your Donation Drive's Success
Celebrate the success and announce the results. Calculate the success of your donation drive with our Donation Impact Calculator. Here are some simple ways to follow-up and say thank you:
Give each of the donors a certificate of appreciation to acknowledge their participation.
Send thank you cards, letters or emails to show your appreciation.
Send a company-wide email to announce the overall results and acknowledge the participants.
Include the results of the drive in a follow-up newsletter.
Throw a party to celebrate the success of the drive.