Why Consider A Career In Energy Or Construction?
Both industries offer job stability, hands on work and opportunities for significant advancement.
Bomb proof: Despite the impact of COVID-19, the estimated workforce demand in the DC Metro area is for 2021 is 177, 748
Great wages: From entry-level labor positions to craft professionals and project managers, the industry is limitless, and you can earn a tremendous salary.
No cost – no loans: Pre-Apprenticeship training like ours means no loans and often lead to Apprenticeship where you can begin earning an immediate salary.
Happy employees: Entrepreneur, Huffington Post and Fast Company magazines site a survey ranking the construction and energy industry as having among the happiest employees, where there's a place for everyone—no matter the interests.
Growing industry: Over the next decade, construction and energy is expected for the fastest growth next to health care. What does that mean for you? Jobs. Career growth. Variety. Security. Excellent pay.
This training program will position you with the core skills and knowledge required for entry-level occupations across energy and construction.
Want to learn more about energy specific careers? Take this quiz https://getintoenergy.com/career-quiz/start-quiz/
Want to learn more about construction specific careers? https://www.thebalancecareers.com/construction-job-titles-2061492
Below are some resources to help you get to know and prepare for a career in the energy and utilities industry.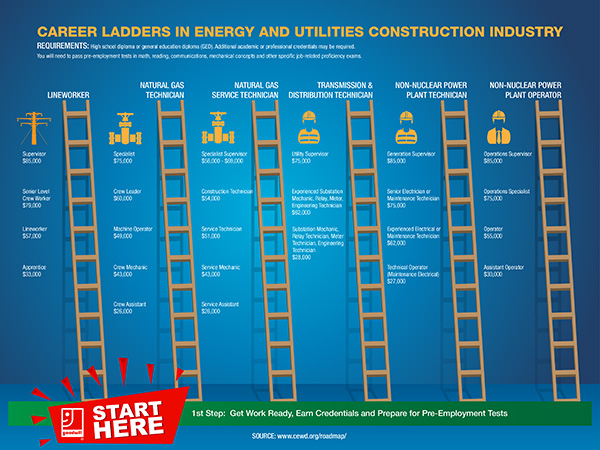 ---
Lineman Agility
Here are examples of occupation activity: