Is A Hospitality Career for You?
The Hospitality Career Ladder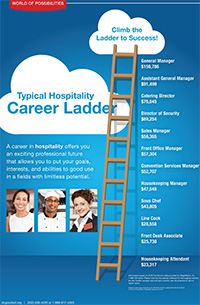 A career in hospitality offers you an exciting professional future that allows you to put your goals, interests and abilities to good use in fields with limitless potential. Click here to download the PDF with the hospitality career ladder and salary information.
---
High Growth Industry Profile – Hospitality
Hospitality (to include hotels, restaurants and bars) continues to support employment for individuals across the spectrum of age and experience. Nationally, hospitality makes up approximately 8% of all employment.

Between 2014 and 2024, wages and employment in this industry are expected to increase by 17%.
Source: "Career Guide to Industries, 2006-07" U.S. Bureau of Labor Statistics. Government Printing Office, 4/4/06. ISBN13: 9780160754265

---
5 Job Skills Hospitality Employers Want to See
In order to stand out from the pack, highlight the most in-demand skills that employers want in your work.
According to an article by Hotel News Resource, the travel, hospitality, and leisure sector's outlook remains positive and has the potential for growth both domestically and internationally. "For the remainder of 2015, the U.S. hotel industry is predicted to report a 1.7% increase in occupancy to 65.5%, a 5.1% rise in average daily rate and a 6.8% increase in revenue per available room. During that same period, demand growth (+2.9%) is expected to outweigh supply growth (+1.2%)."
Due to this growth, many people are chasing prime hospitality jobs. So in order to stand out from the pack, prospective employees must highlight the skills that employers think of as most in demand. As the prospective employee, make sure you are doing your best to highlight what employers want to see on your resume and cover letter.
Here is a list of the top five skills that employers want to see and tips for making sure these skills stand out on your application materials.
Building Connections: Success in hospitlaity management jobs depends a great deal on a person's ability to make positive connections with clients, guests, vendors, and even other employees. After all, the industry is all about comfort and service. To let employers know that you are great at making connections, use keywords (which are bolded throughout this article) like relationship building, vendor management, client management, guest relations, and team leadership in your job descriptions. Highlight accomplishments that demonstrate how you were able to have positive crisis communications by developing positive relationships that lasted.
Multitasking: At all levels, careers in hospitality require employees to handle multiple responsibilities simultaneously. On a typical day, a hotel manager might have to negotiate a contract with a vacuum rental company, handle a dissatisfied guest, fill out paperwork for an employee injured in a kitchen fire, and keep a smile on his or her face to greet new guests, all in the course of one afternoon. Employers want to know you can handle the fast paced, varied work load. Be sure to highlight these skills with keywords like organizational skills, proven time management expertise, and phrases that highlight your ability to adapt quickly to guests' needs and manage simultaneous projects.
Attention to Detail: It's the little things that make a guest's experience extraordinary. To excel at creating that extraordinary experience, everything from making sure the flowers are fresh to making sure every busboy wears a clean uniform must be attended to, and successful hospitality managers must be excellent at addressing each detail. As a prospective hospitality manager, use your resume and cover letter to highlight specific instances where these skills shone through. Phrases like: exceed guests' expectations and ability to focus on crucial guest details will highlight this ability for potential employers and show them you have gone the extra mile for previous employers—and are ready to do it again for them.
Technical and Language Skills: Computer skills and language skills are two areas of technical expertise that make a hospitality manager stand out from the pack. Be sure to highlight any technical expertise on your resume. Definitely take the opportunity to mention specific programs that you are particularly adept at, or special training that you have received at past jobs. For languages, accurately represent your abilities and indicate whether your skill with the language is basic, conversational, or fluent.
Flexibility: Hospitality managers often have unusual hours or longer hours than a basic desk job. On the job, they must be ready to switch gears at a moment's notice if unexpected situations arise. Keywords like: adaptable, versatile, and resourceful will let employers know that you are enthusiastic about the unique opportunities that hospitality careers present and flexible in how you will respond to their company's needs. It is also very important to provide key examples to demonstrate your flexibility. For example, you can add: "Dedicated 15 years of guest management service under two re-organizational changes."
As reported by the Washington Post, in some areas, hospitality is the sector seeing the most growth these days. As a result, hospitality managers are in high demand, yet truly qualified candidates are hard to find. Employers are looking for you! So use these tips and keywords on your resume and you'll find soon that employers are knocking on your door.
Source: 5 Job Skills Hospitality Employers Want To See
---