Is A Security Career for You?
Security Career Paths
Security careers are spread across a multitude of industrial sectors.
Bank or Financial
Commercial Real Estate
Cultural Properties
Educational Institutions
Gaming Security
Government/Industrial
Healthcare Security
Information Systems
Investigations
Read more about it and view the respective salaries here by downloading the PDF.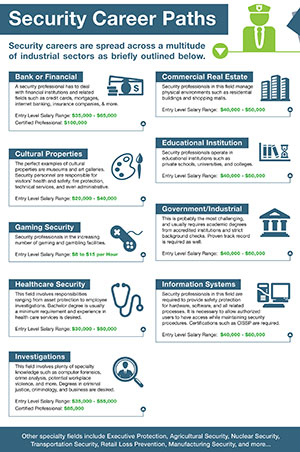 ---
Videos
---
Job and Salary Outlook
The U.S. Bureau of Labor Statistics estimates 195,000 new security officer jobs between through 2020, a 19% increase. This demand is higher than the general growth of 14% for other occupations. The median salary for security guards Officers with specialized training should expect higher salaries.
Salary Ranges: $31,098 – $41,100, with a medium of $41, 210

---
Frequently Asked Questions
Why would you want to become a Security Guard?
Security work is a field that will never go away. With all the potential threats in today's society more and more businesses are in need of help protecting their property, assets and people. If you're interested in safety and security, this could be the perfect job for you.
What Does a Security Guard Do?
A security guard's job is to ensure that people, places and things are safe. Employers look for mature and responsible people to fulfill the role of a security guard. Most employers require a security guard to be certified and bondable. Security personnel must know how to speak and write well. They must have experience with updated security computer systems, video and surveillance equipment.
Primary Duties include:
Patroling both the interior and exterior of the premises where they work.
Monitoring windows, doors and gates to make sure they're locked properly.
Being first on the scene if an alarm sounds or if there's a disturbance and calling emergency police, fire or ambulance services.
Taking phone calls that come into the business after hours.
Monitoring the heating and cooling systems of the buildings they guard.
Preparing daily activity logs and reports of any damage to equipment to present to their supervisor.
---