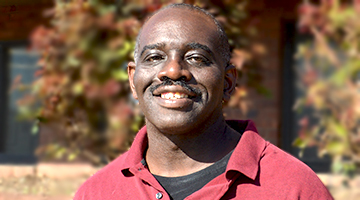 Before coming to Goodwill, Amos C. was starting to give up hope. He was homeless, struggling with depression, and had been unemployed for three years. Amos was also deeply in debt and estranged from his adult daughters. Luckily, a friend convinced Amos to try Goodwill's Hospitality Training Program.
Not only did he receive training to prepare him for a job in the hotel industry, Amos was able to stabilize his life with the help of his Goodwill Career Coach, Marcel. Marcel helped Amos connect with shelters and food pantries to address his most immediate needs. Then, Amos and Marcel examined Amos's debts and created a repayment plan.
At the same time, in his classes Amos was improving his job readiness skills, learning about communication and conflict management along with resume development and interviewing.
Amos says,
"Goodwill doesn't just coach job skills, it coaches life skills".
Once he graduated from the Hospitality Program, Amos began interviewing for jobs. This was a challenging time for him, and he had five unsuccessful job interviews.
The encouragement and support Amos received from Goodwill helped him to keep trying, and after his next interview, Amos was offered a full-time position as a Banquet Steward at the Bethesda Marriott.
Today Amos is about to celebrate six-months of employment at the Marriott. He has a budget and a bank account. He's reconnected with his daughters and recently met his grandchildren for the first time.
Amos refers everyone he knows to Goodwill and says,
"There are a lot of people out there who have no hope, thinking about giving up or have given up. Goodwill gives people hope."
Amos, who has some training in accounting, would like to go back to school and get his degree. He also hopes to buy a house one day.
Help Support Goodwill Graduates Like Amos On Their Road To A Better Future.
---
We Are Recruiting For Our 2016 Hospitality Job Training Programs. Inquire Today!