Your Donations and Shopping Help Fund Job Training that Transforms Lives – Meet Karen
"If you have a goal, you have to have your stepping stones for how you'll get there," Karen told a class of Goodwill hospitality students who were getting ready to graduate.
In August 2016, Karen graduated from the same Hospitality training program. Now she is a night auditor at the BWI Marriott Airport. Goodwill was Karen's stepping stone to a new career in hospitality. For 20 years, Karen had been a stay-at-home mom to two children. When her youngest child started college last year, Karen wanted an opportunity that would allow her to start her own career.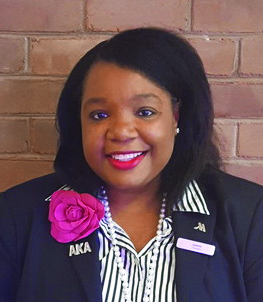 "I was the wallflower – the shy, quiet person," Karen said. "This program changed me 180 degrees. The most important thing was to learn how to sell myself and the skills I can bring to the position. Goodwill prepared me for a new job in an industry I've never been in before."
When she graduated, Karen had one goal – to become a night auditor at a hotel. It was the perfect match for her interests and the degree in accounting she's finishing.
Karen worked closely with her coaches at Goodwill, and successfully applied for and accepted a position as night auditor at the BWI Marriott.
"Working in the hotel industry it's important to understand how everything fits together to keep things going," Karen said. She tries to see every opportunity as a learning experience and even developed a system to streamline nightly financial reports. Karen has already received a raise in recognition of her hard work.
"Customer service is not just saying please or thank you," Karen said. "It's about going above and beyond to anticipate customer needs – to keep treating people well so they come back. It makes me feel really good about being able to go above and beyond those expectations."
This spring, Karen graduated with her degree in accounting from the University of the District of Columbia. Karen plans to keep working at the Marriott while she focuses on her new goal – earning her law degree. One day, she hopes to work in accounting and legal affairs in the hospitality industry.
You help empower Goodwill graduates like Karen to achieve their goals. Thank you for investing in her success.