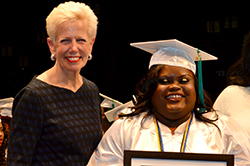 Shawntay (pictured here with Goodwill of Greater Washington President and CEO, Catherine Meloy) is a resident of Ward 5 in the District of Columbia who graduated from the Goodwill Excel Center Adult Public Charter High School (GEC) on January 12, 2018. Before coming to the GEC she had left high school and was working at a pizza restaurant where she struggled with the fact she found it all but impossible to advance.
"I felt stuck in the same place," she said.
She made the decision to change her situation and go back to high school. Enrolling at the GEC, she had her first day of classes in March of 2017. Towards the end of her tenure at the school, a Program Recruitment Specialist from Goodwill of Greater Washington, Dwayne, came to speak to the students about the job training and education programs available to them once they graduated.
At that moment Shawntay knew what she had to do to continue to move forward. She desired to keep the momentum of education and self-improvement going. After getting the needed information from Dwayne and working with her career coach at the GEC to develop a plan, she went to a program intake session at Goodwill's DC Career Center.
Only four short days after her graduation from the GEC Shawntay began the Hospitality Training program at Goodwill. Over the next month she would be instructed by industry professionals using the American Hotel and Lodging Educational Institute's Skills, Tasks, and Results (START) curriculum.
I enjoyed the program and how it focused on the different skills I needed to be equipped with to get where I want to go in my career," she says of the program.
On February 16, 2018, eleven months after her educational journey began at the GEC, Shawntay completed Goodwill's Hospitality Training Program and received her industry recognized credentials. But she has determined that completing the program will not be the end of her journey. In April 2018 she found employment at the Double Tree Hotel in Bethesda, MD as a Front Desk Supervisor and plans to enroll at the University of the District of Columbia to continue her education and earn an Associate's Degree in Hospitality Management.