In two years, Keron has gone from a Goodwill associate who struggled adjusting to his new job to a top worker and leader.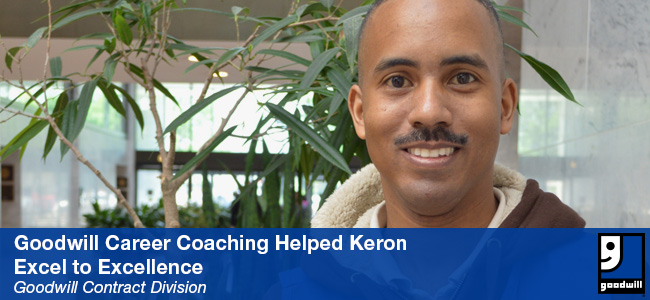 Keron joined Goodwill in 2014 as an associate with our contract at the US Senate Office Building. While Keron had done custodial work before, because of his disability, he struggled to keep up with the workload. But Keron was not alone.
At Goodwill, our mission doesn't end with providing training and employment opportunities for people with disabilities like Keron. We also work to ensure they have the resources and support needed to maintain and thrive in their jobs.
Keron had support from his project manager, job coach and Goodwill RISE Coach, part of a special team of career and life skills coaches available to Goodwill retail and contracts associates. Together the team worked with Keron to assess his strengths and weaknesses, create pictorial aids for job tasks, and map out plans to work more efficiently.
Keron is now one of the top workers at the US Senate Office Building contract site and was selected as a trainer for other new associates. In June, Keron was recognized with the 2016 Goodwill RISE Award for Excellence presented annually to one Goodwill associate.
Thanks to the support of one-on-one coaching from Goodwill – and growth opportunities through our contracts division where the hourly wage plus benefits exceeds $15 an hour – Keron is well on his way to greater independence. He also looks forward to being more actively involved and engaged in the community.
Support Goodwill's Career Coaching program to help others like Keron overcome workplace challenges.
Make a Gift!