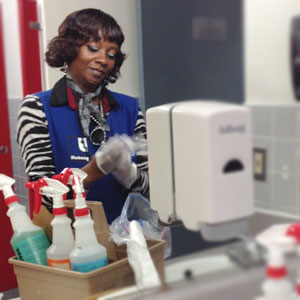 Just as Goodwill helps individuals with disabilities and disadvantages find employment in the community, we are also helping people within Goodwill find new careers, including people like Patricia.
Patricia is deaf and represents one of the more than 140 people with disabilities employed in our Contracts division. Patricia is also a mother, a seven-year loyal associate at our Bolling Air Force Base contract site, and has dreams of joining the culinary community.
This is Patricia's story.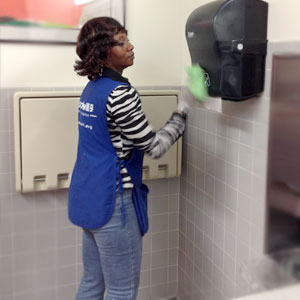 Thirteen years ago Patricia, who was pregnant at the time, moved from her home country of Nigeria to the United States to begin a new life. Despite her excitement she would be leaving behind family, friends, and her life as a certified culinarian to come to a country where she saw a new hope for her growing family.
As time passed, Patricia had to overcome the many obstacles that face immigrants who are new to this country. Although her aunt was able to give her temporary housing and food she had a difficult time finding prenatal health care. After the birth of her daughter she found employment but had difficulty making the nearly 75-mile round-trip commute from Washington, DC to Baltimore every day. She eventually transferred to a job closer to home at the Department of the Interior but was laid off when she became pregnant with her second child.
Perseverance would be the key to obtaining the stability that Patricia sought. After two years of not being able to find employment, her search led her to Goodwill.
Patricia now encourages others to come to Goodwill if they are having trouble finding employment.
…staying at home a lot of people are collecting social security and it is not enough to support their living and I thought if they come and join us at Goodwill they would be able to see the future and their abilities and capabilities.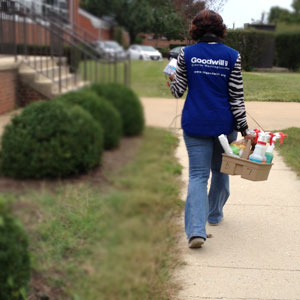 A successful future for herself and her daughters is something that she is working towards every day. She plans to further her education so that she may pursue a career in the culinary field. Her two daughters, now in school, believe they too will have the tools to achieve their American dream by following in the footsteps of their mother.