Rickey was unemployed for a year when one day he happened to notice the Goodwill Career Center sign as he was driving by the Arlington Goodwill Retail Store and Donation Center.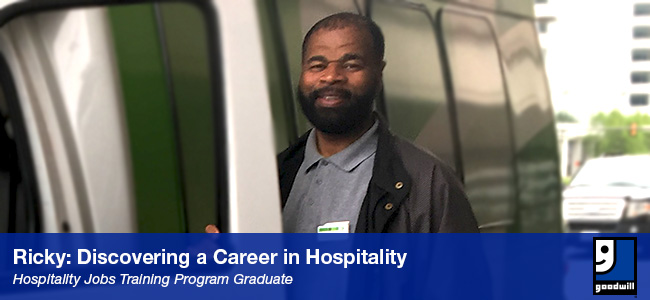 Rickey pulled into the parking lot and was entering the store when he struck up a conversation with a young lady who told him about Goodwill's Hospitality Jobs Training Program. Thinking it sounded like a good opportunity, Rickey decided to complete his shopping at the store and visit the career center upstairs to learn more.
He immediately enrolled in the program and successfully graduated several weeks later in August of 2015.
The program wasn't easy for Rickey. He didn't live nearby and had to drive his own car 90 miles round-trip each day for class. Fortunately, the travel stipends he received from Goodwill helped offset his transportation costs.
Rickey said, "The stipend was really helpful for both transportation and purchasing his daily lunches!"
He made the 90 mile journey 5 days per week for 5 weeks during the Hospitality Training.
Rickey stated, "The most valuable part of the Goodwill Training was the specific information that he received regarding Customer Service and successfully working in the Hospitality Industry."
He was selected as one of the leaders in the class and modeled positive customer service behaviors that were discussed and implemented by his peers.
Rickey set the goal with his Career Coach, Monique Wiley-Crawford, of obtaining a job offer in Housekeeping as a means of "getting in the door" of a major Hotel with the intention of moving to greater positions faster. Since competition is sometimes great for the Front Desk Agent opportunity, Rickey knew that his skill set once demonstrated would allow him to advance quickly.
A Hospitality Job Fair was coordinated by the Goodwill Business Services Representative, Roma Thurin-Felton, shortly after Rickey graduated from the training program. During the job fair Rickey was offered an interview with Holiday Inn for a Housekeeper's position.
During the interview Rickey was re-directed by the Human Resource Manager from a Housekeeping interview to a Bellman/Driver interview. Rickey impressed the management and was offered the Bellman/Driver position.
Rickey earns $9.50 per hour, averages $50.00 per day in tips, and works 40 hours per week at Holiday Inn. He has full benefits including health and dental insurance as well as a 401K plan.
Rickey has been in the Bellman/Driver position since September 29, 2015 and is presently up for a raise.
Rickey stated, "I never believed that I would be successfully working in the Hotel Industry and that I would be considered for advancement in the near future. Goodwill allowed me to see my potential and provided me with the tools that I needed to pursue a career in Hospitality!"
Rickey plans to advance at Holiday Inn in the near future and is actively seeking feedback from his management on things that he needs to accomplish in order to move to his next position.
---
If it wasn't for Goodwill's travel stipend program Rickey may have not been able to complete the Hospitality Jobs Training Program.
Forgo your $5 daily latte today, and donate that $5 to help provide a travel stipend for a Goodwill student like Rickey.