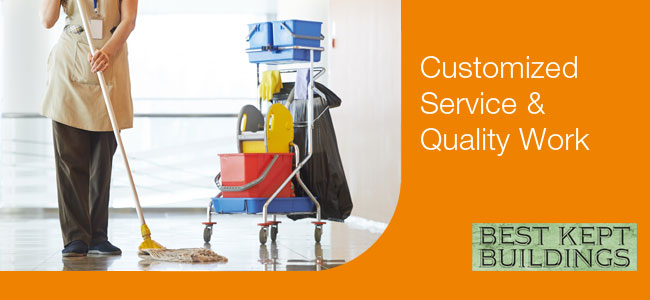 Best Kept Buildings, an affiliate of Goodwill of Greater Washington, was established in 1996 to provide janitorial maintenance services to the commercial market in the Washington metropolitan area. Best Kept Building's Pest Management is also available to provide high-quality pest management services at an affordable price.
We are ready and able to provide any building maintenance service a customer might need, from specialty and emergency cleaning to landscaping and grounds keeping. We customize all our services to meet your needs. A true Green Cleaning Program consists of using more than just environmentally friendly chemicals, which is why we utilize a complete housekeeping program that improves the health and safety of the facilities that we service, while having minimal impact on our environment.
Best Kept Buildings janitorial work crews and supervisors are highly trained, licensed, bonded and insured, and are available seven days a week, 24 hours a day. We also use the very latest in "green" products and practices.
Quality work, customized service and dedicated employees. Best Kept Buildings provides all three. Because first impressions count.
---
BestKeptBuildings Contract Sites
Brazilian Navy Commission
Washington Hospital Center
Goodwill Industries International Headquarters
Goodwill of Greater Washington Stores