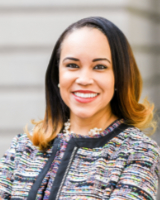 Kimberly Rollins is Goodwill of Greater Washington's Vice President of Development. She is responsible for planning and leading a comprehensive development program to generate revenue for our organization.
Before coming to Goodwill, Kimberly ran her own fundraising consulting firm called Rollins Bowers Consulting where she provided development consulting services through coaching, strategy and engagement sessions with nonprofit executives and development leaders. Prior to that, Kimberly held various development roles with other nonprofit organizations. Kimberly earned her undergraduate degree from the University of Richmond, and her master's degree from Virginia Commonwealth University.
Kimberly believes in using storytelling to help drive fundraising, so her vision is to share the Goodwill story with a multitude of audiences that align with and are drawn to our mission. When not spending her time helping Goodwill, Kimberly can be found helping her community in many other ways through volunteerism. She also serves on two boards – Two Rivers Public Charter School and the University of Richmond Alumni Association.