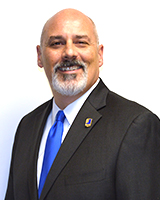 He has direct oversight of the Donated Goods Retail and Human Resources Divisions. Michael is also responsible for Strategic Planning, Succession Planning, Safety and Associate Development. In addition, Michael leads the team which identifies and develops new Retail Store opportunities. Michael is also the President of wholly owned DC Goodwill subsidiary, Best Kept Buildings.
He has been with the agency since January 2004 and formerly served as Director of Commercial Business Development, VP of HR and Executive Vice President.
Michael is a 2009 graduate of the Goodwill Executive Development Program through Goodwill Industries International. This program is designed to develop the next generation of Goodwill leaders and prepare candidates to lead Goodwill affiliates as CEO. He is also a member of the Leadership Greater Washington class of 2014.
Michael came to Goodwill with 20 years of experience in management. His previous career was in the radio industry where he managed programming and sales teams at some of the country's top stations.
Originally from White Plains, N.Y., Michael received a Bachelor of Arts degree in Business Administration from Muhlenberg College in Allentown, PA and a Master's degree in Business Administration from The University of Phoenix.