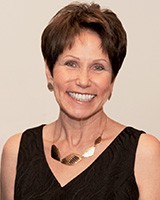 Rosa Proctor has been the Chief Financial Officer for Goodwill of Greater Washington (GGW) since July 2009, where she is responsible for the management and oversight of the organization's complete financial operations. Before coming to GGW, Rosa was the Senior Vice President of Finance for the Special Olympics, with direct authority over the Special Olympics budget, accounting and finance.
Rosa has also served as the Finance Director – Asia/Americas/Eastern Europe for Teleglobe Corporation, a subsidiary of Bell Canada, where she managed overall accounting and finance support for 35 offshore operations around the world.
Prior to that, she spent 13 years with Verizon (formerly Bell Atlantic/NYNEX Corporation) in a number of positions, most recently as Director – Financial Assurance (Asia). Her time at Verizon included a 5-year assignment to TelecomAsia Public Co., Limited, a Verizon strategic partner in-country in Thailand, as Vice President – Liability and SEC Compliance.
Proctor, a Certified Public Accountant, received a Masters of Business Administration from Pace University and a Bachelor of Arts from Queens College, City University of New York.