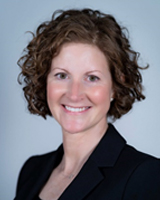 Sandra Wasden serves as the Chief Finance Officer for Goodwill of Greater Washington and is responsible for the organization's financial management. This includes retail operations, government contracts, job training programs, and an adult public charter school: The Goodwill Excel Center.
Her background is in strategy and financial operations, project, and risk management. Prior to joining Goodwill Industries, Sandra was the Chief Financial Officer of a multi-state, research and data collection firm. There she added a new revenue stream, revised the corporate structure and made large improvements to the financial operations, including billing automation, implementation of a contract management tool and centralized purchasing.  As a Director of Finance at Clark Construction, she provided financial and contract management and optimized existing business systems.  Before joining Clark, she spent over 15 years at Marriott International and affiliated entities: Host Marriott Corporation (now Host Hotels & Resorts), and Crestline Capital Corporation. There she led large financial projects which included forecast and budget models, contract and operation audit tracking tools, and tax strategy and compliance projects.
She enjoys building and developing talented, highly motivated teams and contributing to the success of an organization.