Thomas H. Graham Joins Goodwill of Greater Washington Board of Directors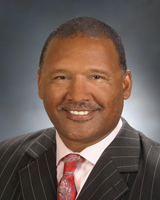 Goodwill of Greater Washington (Goodwill) is pleased to announce the addition of Thomas H. Graham to its board of directors.
Graham retired from Pepco Holdings, Inc. (PHI) in June 2016. At the time of his retirement, Pepco Holdings employed more than 4,700 people, owned more than $16.1 billion in assets and generated approximately $4.8 billion in annual revenues. Pepco Holdings serves 2 million customers as the parent company of Pepco, an electric utility serving Washington, D.C. and suburban Maryland; Delmarva Power, an electric and gas utility serving Delaware and the rest of the Delmarva Peninsula; and Atlantic City Electric, an electric utility serving southern New Jersey.
During his 30-year career, Graham held several leadership positions that included president, Pepco region; regional vice president; manager strategic accounts (large commercial engineering design and construction); and manager billing services & investigations. His career at PHI concluded on the Executive Leadership Team as vice president People Strategy and Human Resources. During his tenure, Graham received numerous prestigious energy industry, business, higher education and civic awards. In 2016, he founded a boutique government affairs, utility construction, supplier diversity and community relations strategic consulting firm, T.H. Graham & Associates. The firm is MBE and CBSB certified in Prince George's County.
Currently Graham serves as a director for The University of Tampa, WMATA, Green Branch Foundation (chairman), Boys & Girls Club of Greater Washington Prince George's County Chapter, Greater Prince George's Business Roundtable, Summit Utilities and Midwest Reliability Organization. Graham has also served as the chairman of the Center for Energy Workforce Development and Maryland Chamber of Commerce. Other affiliations include American Association of Blacks in Energy (past D.C. Chapter president), Old Line Bancshares, LLC, Prince George's County Economic Development Corporation, Prince George's County Liquor Board (chairman) and Leadership Prince George's (past president). Most recently, Graham was named chairman of the Prince George's County COVID Forward Task Force for Economic Recovery Work Group.
"It is a great honor to join the Goodwill of Greater Washington board of directors and continue to serve my community in this capacity," said Mr. Graham. "Their values of respect, integrity, service and excellence perfectly align with my desire to continue to support an organization that empowers our community's most vulnerable members as they seek to increase their education and employment opportunities."
"Being able to add another member to our board like Thomas Graham with a strong mind for business and a heart for the community is a tremendous asset to Goodwill," said Catherine Meloy, President & CEO of Goodwill of Greater Washington. "I look forward to his guidance as we navigate the future and the ways we serve the populations who need us."
Mr. Graham joins the other Goodwill of Greater Washington board members including:
Adrian Chapman
Ex Officio
Glen Howard
Fred Humphries
Corporate VP, U.S. Government Affairs
Microsoft
Ghada Ijam
Chief Information Officer
Federal Reserve System
Kevin Jacobs
Chief Financial Officer
Hilton Worldwide
Evelyn Lee
Executive Vice President
Truist
Elizabeth Karmin
Partner
Morris, Manning & Martin, LLP
Debbi Jarvis
Senior VP, Corporate Relations
Howard University
Solomon Keene
President & CEO
Hotel Association of Washington, DC
James MacGregor
Publisher
The Washington Business Journal
Lisa Mallory
CEO
DC Building Industry Association
Catherine Meloy
President & CEO
Goodwill of Greater Washington
Edward Ryan
Board Chair
Kevin Virostek
Greater Washington Managing Partner
Ernst and Young
# # #
About Goodwill of Greater Washington:
Goodwill of Greater Washington is an approved nonprofit charitable 501(c)(3) organization whose mission is to transform lives and communities through the power of education and employment. Goodwill funds that mission primarily through diverse lines of business, including a chain of retail stores, custodial services, pest control and grounds maintenance operations. The nonprofit also generates revenue through individual, foundation and corporate giving.