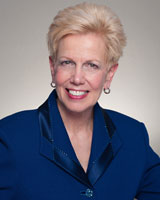 For 85 years, our Goodwill has been here to serve the Greater Washington region through wars, economic downturns, and challenging times in the past for our own organization. We are still here because the community has walked alongside us and those we serve together.
Our partners committed to helping their neighbors have stood with us in this critical year. We are truly grateful for their dedication to our mission and to rebuilding our community.
We are thankful for the partners who generously supported more than 600 furloughed retail associates and their families in the early days of the pandemic. Their gifts were an investment in their neighbors when Goodwill made the difficult decision to temporary close our retail stores:
More than 400 individual donors contributed more than $106,000 that helped extend health insurance coverage.
Truist, one of our longtime partners, provided a $100,000 grant that offered direct emergency assistance to families.
The United Way of the National Capital Area provided a $25,000 grant that helped cover and extend health insurance benefits, as well as provide transportation assistance for essential workers.
While our mission begins at home providing employment opportunities, it does not end there. After Goodwill learned our friends at the Capital Area Food Bank had a shortage of trucks and ways to deliver food, we jumped in to help. We redeployed our transportation trucks this spring – picking up prepackaged meals from the Food Bank's District headquarters and distributing them to groups across our region. Goodwill delivered 212 palettes of food and 600 boxes of produce – enough to provide more than 9,075 meals to feed 36,300 of our neighbors.
In this newsletter, you will also learn more about the champions and innovative partnerships that carried our work forward this year supporting our students, graduates and our region.
Every day, I am honored to work with our partners and the the tremendous team at our Goodwill – our Board, senior leaders and dedicated staff. Their hard work and dedication bring our mission to life, impacting thousands of lives.
I am proud of the work we do at our Goodwill, and hope you take pride in the difference you make as a partner with us. Recovering from this dual health and economic crisis will require everyone working together to get our neighbors back to work and ensure that families have the resources to thrive. You have given us hope in this difficult year.