When stay-at-home orders went into effect, our Goodwill Excel Center team quickly transitioned to remote learning for its 375 students. The Excel Center offers adult residents in the District the opportunity to earn their high school diplomas and industry certifications on their college and career path.
The Excel Center invested in new technology platforms for virtual learning, worked to bridge the student technology gap, and printed assignment packets to help students stay on track.
An impressive 75 District residents earned their high school diplomas in the 2020 academic year, including 51 who completed their requirements remotely. July's graduation ceremony was moved to September so those 51 graduates could gather in person and socially-distanced to celebrate with classmates. Their family, friends and other GEC faculty joined via Facebook live for a touching ceremony.
Each of the 51 graduates were proudly adorned with a purple graduation cord representing perseverance, along with cords for academic achievements and certifications.
Angelique Moussou, Valedictorian, moved to DC five years ago from Senegal to join her husband. The mom of two came to the Excel Center in 2019 and graduated a year later. She balanced life and family responsibilities with full course loads. Angelique described her journey as a series of rooms to find the key to her future.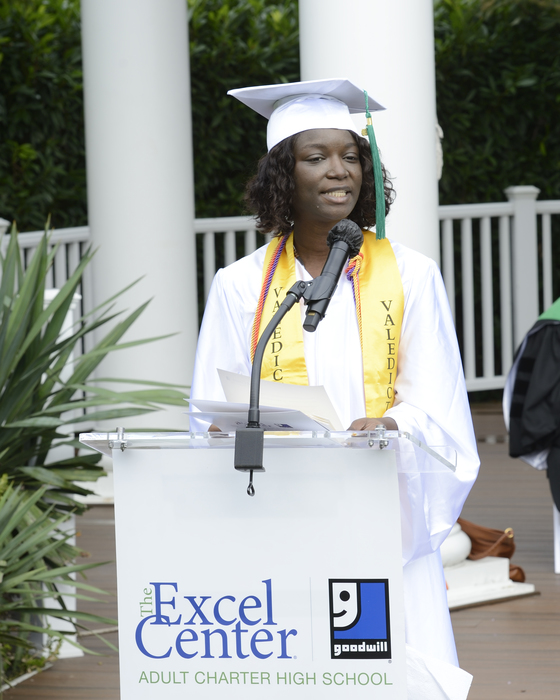 "Today I can proudly say that hard work pays off. The advice I have for you, including myself, is to keep going no matter how hard it is. Life can be sweet – and then sour. There will always be a new challenge, a new door, and a new key that you must find. So, when things happen you must persevere, keep the faith, be patient, and believe that if you work hard you will get yourself out of that situation. If we did it, we can help others to do it too!
Tahira Ben-Anxi, Salutatorian, first enrolled at the Excel Center in 2017 and knew it was the right fit. She earned honor roll, perfect attendance and was a peer tutor. But major life changes in 2018 made it impossible to continue attending school in person. Her children are her driving force and she re-enrolled when classes became virtual with the pandemic.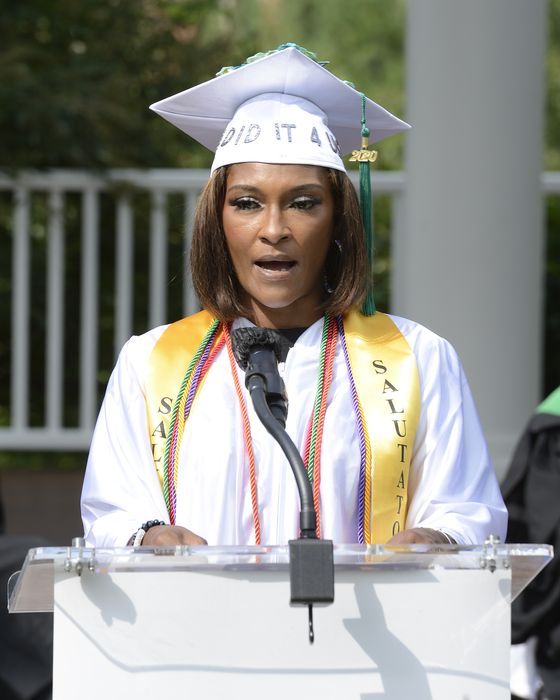 "I know that online learning is an unsettling situation for some and not for everyone. But it was ideal for me. It was my golden opportunity to finally finish school. Once I started my online classes, I discovered that the GEC community ensures each student's success as much virtually as they did in person… What is most important is that I now have confidence and options with my diploma from the Goodwill Excel Center. That void has been filled."