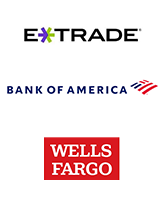 "Alone we can do so little; together we can do so much." These words from Helen Keller have perhaps never resounded so clearly for Goodwill as they have these past few months. As we looked to address the formidable and pressing needs of those in our community, Goodwill of Greater Washington is grateful to have been bolstered by the tremendous support of our corporate partners, who enabled us to rise to meet these challenging times.
Behind every training certification issued, every person placed into employment, every associate who received assistance, there has been a donor providing the resources needed to continue offering impactful programs and services that connect people in need to jobs. Three of our most steadfast corporate partners – E*TRADE Financial, Wells Fargo, and Bank of America – stepped up to assist Goodwill with significant support at a time when we needed it most.
E*TRADE recently awarded Goodwill a $90,000 major grant for General Operating support. A valued Goodwill partner since 2009, E*TRADE has invested a total of more than $780,000 in financial contributions and 980 volunteer hours over the last 11 years.
A valued partner since 2011, Wells Fargo has granted Goodwill a $65,000 investment for our comprehensive workforce development programs and services, helping us to upskill and reskill those who recently lost their jobs.
Bank of America is one of Goodwill's most enduring partnerships, working alongside us since 2002. Their increased gift of $50,000 this year is assisting us to advance economic mobility in the Greater Washington area so that we can help build thriving communities.
These three institutions have worked alongside Goodwill for a combined 38 years. Their support this year will help us serve thousands of individuals facing the economic impact of COVID-19. Collectively, their gifts will enable us to provide free, job skills training to under- and unemployed individuals through virtual platforms; offer new online Career Navigation Workshops; provide one-to-one RISE personal and career coaching to our retail and contracts associates; and serve more than 360 students virtually through our Goodwill Excel Center adult public charter high school.
We take this moment to send a heartfelt "thank you" to E*TRADE, Wells Fargo, and Bank of America! We are immensely grateful for their continued investment, dedication to Goodwill and to the individuals and communities we serve. We couldn't do it without you.
Know someone interested in partnering with Goodwill at the corporate level? Please contact Kent Sneed, Sr., Development Officer – Business Development, at Kent.Sneed@dcgoodwill.org or (202) 715-2641.