Since 2006, Capital One's partnership has been integral to Goodwill's ability to fulfill our mission to serve our community. Over the past 14 years, Capital One has invested more than $2.5 million into the workforce training programs and employment opportunities we offer the Greater Washington region, including through our retail stores.
As Goodwill faced one the most challenging periods in our 85-year history, Capital One again stood with us this year. Their investment was instrumental to enabling Goodwill to reopen our stores after temporary closures this spring due to the pandemic.
Capital One's generous gift provided the resources to refit and equip our 20 retail stores with stringent safety measures to ensure the health and wellbeing of our associates and customers. Reopening our stores helped us restore living-wage jobs and benefits to more than 600 individuals and restart Goodwill's economic engine.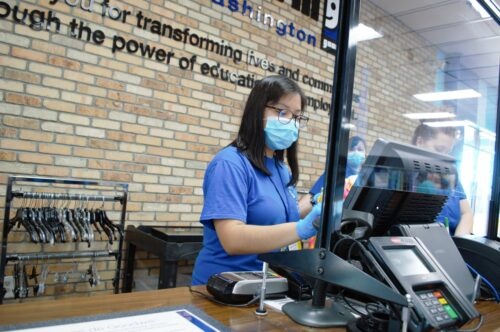 Capital One's gift also addressed the overwhelming need for workforce training in our community. Since the pandemic, unemployed in Greater Washington has spiked to levels higher than the Great Recession. One in five people in our region have filed for unemployment, and 235,099 of our neighbors were unemployed at the end of August, according to the U.S. Bureau of Labor Statistics.
Capital One's investment supported our transition to online programs including our new Virtual Career Center that provided online employability skills workshops and career support for Goodwill associates, graduates and the broader community. Their gift also supported the transition of our traditional in-person workforce development training programs to online models that reskill and upskill the recently unemployed.
"We are honored to stand with one of our longtime partners, giving them the support necessary to put their associates and the Greater Washington community back to work in the midst of the pandemic," said Kerri Palmer, SVP, Risk Management and President, Mid Atlantic Market President Roundtable, Capital One. "We know our region is facing record unemployment from this duel health and economic crisis. Now more than ever, we are proud to partner with organizations that put the community first – helping our neighbors provide for themselves and their families. Goodwill of Greater Washington goes above and beyond to make this happen."
Capital One's continued partnership has been invaluable to Goodwill and our ability carry out our mission in the Greater Washington area – through both their financial investments and the 320 volunteers who gave more than 1,000 hours of their time in service to our mission. Strong partners like Capital One allow us to fully invest in our community in a way that lifts up and supports the most vulnerable among us in their time of need.