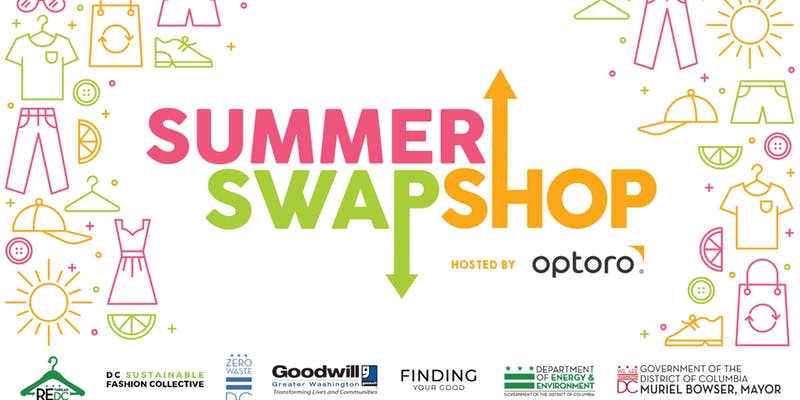 ---
Date & Time
Friday
August 9, 2019
2:00 PM – 6:00 PM, EDT
Location
Wunder Garten
1101 First Street, NE
Washington, DC 20002
Summer Swap Shop will bring together people from the DC community to trade clothing, shoes, and accessories.
All are welcome.
Entry is free.
Event is dog and kid-friendly.
The event is on rain or shine – the space is covered by tents.
How Does the Swap Shop Work?
Bring your clothing and accessories (children's clothing too) to trade at the event.
For each item you bring, you will receive one ticket (limit of 15 items per person).
Use your tickets to "purchase" any item at the Summer Swap Shop. Every item costs one ticket.
What Should I Bring To The Swap Shop?
Bring items in good condition to swap – any items deemed 'unswappable' will go to our textile recycling table hosted by DC Sustainable Fashion Collective. Clothing leftover at the end of the day will go to Goodwill.
Why A Swap Shop?
Every year, millions of perfectly good items are sent to landfills, resulting in billions of pounds of waste. Let's start thinking about how we shop, embracing the idea of reuse and supporting businesses with a strong sustainability commitment. What better place to start than a free Swap Shop? We'll see you there
Stylist In Residence: Carolyn Becker of Goowill's Finding Your Good and Petite Punk
Need an opinion about how that swapped outfit is coming together? Have a question about a shoe brand? Or do you want to know about secondhand shopping and donations in the DMV? During SwapSwap, you can learn about all things fashion, retro and secondhand from local DC Sustainable Fashion and Vintage Blogger and Goodwill of Greater Washington's Digital Communications Manager, Carolyn Becker (Petite Punk). She'll be walking among the racks during the event, so don't hesitate to say hello! Fun fact: she's found everything from Chanel to Lululemon to Versace – all at Goodwill!
ABOUT OPTORO
Optoro is a DC-based technology company that works with retailers to manage their excess and returned inventory. Utilizing innovative technology, Optoro's platform ultimately saves hundreds of thousands of perfectly good items from going to landfills and enables retailers to recover financial value.